Restaurant Review - Dunne & Crescenzi Blackrock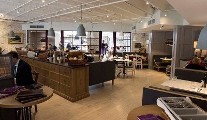 Wednesday 25 October 2017
When Eileen Dunne and Stefano Crescenzi first opened their Italian deli La Vista in Sutton in 1995, Ireland was awash with 'sloshy red tomato sauce' Italian eateries. It didn't take them long to attract attention, as people lapped up the concept of authentic Italian casual eating. Four years later, the couple moved into the city centre, where I remember interviewing Eileen at their first Enoteca in South Frederick Street. It was the first time Dubliners were able to eat 'when in Rome' style, enjoying wonderful antipasti platters of cured meats, spectacular cheeses, rich Italian wines, superb olive oils and coffee, in chic, understated surroundings.
Over the next couple of years, they opened a number of restaurants under their umbrella, trading as Dunne & Crescenzi in Sandymount, and the now-very-much-bigger South Frederick Street mothership, as well as L'Officina in Dundrum Town Centre and Kildare Village. Bar Italia was, until recently, part of D & C, but this has now been taken over by David Izzo, who has a tremendous knowledge of all things food and wine, and came to Ireland from Rome to work with them in the setting up of their 'empire'.
Branching out
They've now opened a new D & C branch in my neck of the woods in the SoCoDu village of Blackrock. It's in the superb space in Blackrock Shopping Centre that was formerly Clodagh's short-lived Kitchen. This is just a great asset to the village, covering all-day casual dining from breakfast through brunch, lunch, and dinner, Wednesday through Sunday. Heading up the team here is son of the house Ghinlon, and you couldn't meet a more welcoming chap. Just being able to have cornetti (Italian style croissants) and great coffee, or Stefano's porridge drowned in a long sweet espresso shot, or scrambled eggs with buffalo mozzarella and smoked speck in the mornings, is very appealing. Not to mention long weekend brunches with Ghinlon's spicy touches including uova in purgatorio — eggs, Tuscan sausage, tomato and borlotti beans, and optional hot hot Calabrian chilli paste.
Covering all bases
I popped along for dinner with my Italophile friend Mary, while we planned our holidays. Antipasti (€7.50-€17.50) included bruschetta, in two sizes, of toasted Altamura bread with tomatoes, fresh basil and extra virgin olive oil, or with goat's cheese and chargrilled peppers. Caprese di bufala was there along with Italian vegetable plates. We decided to share three pieces of lovely freshly chopped tomato bruschetta (€7.50) and a fine antipasto misto board (€13.50), sporting a cracking selection of charcuterie from Emila Romagna and Tuscany, Italian DOP cheeses, olives and marinated veg, and toasted foccacia.
There's something for everyone in the mains selection (€12.50-€29.50) by way of interesting pasta dishes — ravioli del plin filled with beef and pork; or panzerotti filled with porcini mushrooms, dressed with Grana Padano DOP fondue and olive oil. The steak man is covered by way of a rib-eye served with rosemary roast potatoes with a choice of sauces — Gorgonzola cream, pink peppercorn, or Chianti wine. Mary's fancy was taken by cotolette d'agnello (€27), deliciously pink and tender rack of lamb, coated with a pistachio crust, served with rosemary roast potatoes. I loved my raven black, squid ink chitarra spaghetti (€18), tossed with prawns, squid, mussels, cherry tomatoes and a hint of chilli — so much, that I asked for more.
We both love Italian ice-creams and sorbets, so, it was sorbetto di limone (€6.50) for me and gelato amaretto (€6.50) for Mary. They sound much better in Italian, and, better still, they both came with a lash of appropriate liqueurs – Limencello and Amaretto di Saronno!
Recommendations?
Our waiter recommended a full-bodied Blasio Cannonau di Sardegna Reserva 2010 (€35), which proved to be everything he said. With two espressos (€1.75 each) and optional service, our bill came to €129. As usual, D & C have you covered for all times of the day.
Did I mention the DART was just across the road?
Dunne & Crescenzi,
Blackrock Shopping Centre,
Blackrock, Co. Dublin.
Tel: (01) 525-2010
dunneandcrescenzi.com
lucindaosullivan.com
First Published In The Sunday Independent