Restaurant Review - Dax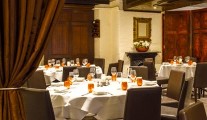 Wednesday 18 October 2017
When two great food professionals decide to merge their talents, it's always going to be an interesting combination – it can sometimes lead to fireworks or pistols at dawn. This time around, it's a Franco Irish combination, but these guys have worked together previously, so they're not an unknown quantity to one another.
Olivier Meisonnave opened his Dax restaurant in 2004, naming it after his hometown in Aquitaine, South West of France, an area famous for its rich rustic food – particularly its duck and goose dishes, the most famous of course being foie gras. It's also the region of the historic Gascony, home of the Comte d'Artagnan, captain of the Musketeers, inspiration for Alexandre Dumas' The Three Musketeers. Meisonnave was originally Maitre d' in Kevin Thornton's eponymous restaurant. Here he met Graham Neville, a multi–talented chef, who has a resume covering Heston Blumenthal's Fat Duck, London's Le Caprice, and La Pyramide in Lyon. After seven years at Thornton's, in 2008, Neville began a very succesful run as Head Chef at Restaurant FortyOne in Residence on St. Stephen's Green, but has now packed up his pans to join forces with Meisonnave at Dax.
King of the castle
Dax is Meisonnave's castle, which he runs with the meticulous professionalism that the French have when it comes to food, wine and restaurants. It is in no way intimidating, it's just a confidence borne of having grown up around good food. Dax has received many accolades including Best Restaurant in Dublin, and has a hugely loyal following. It's not hipster territory – you won't get chips in a bucket or a steak on a shovel – it's exquisite fine dining, at very reasonable prices for such standards.
We popped along early enough to try both the pre-theatre menu – 2/3 courses at €32/€39 – and the a la carte which had starters €12/€21 and mains €27/€34. There was also a 7-course surprise menu at €90, or €130 with matching wines.
Lord of the larder
Pure earthy heaven quickly arrived by way of an ethereal mushroom mousse amuse, topped with a Parmesan crumble. Between both menus, starters included Annagassan lobster in a cucumber and strawberry gazpacho; or smoked salmon, soft boiled egg or crab. One of Neville's signature dishes is a stuffed courgette flower, a must for my guest, who was having the pre-theatre menu. Plump and proud, with a firm prawn farce, seared and sitting in prawn bisque, she absolutely loved it. My seared and silky foie gras (€19), topped with a root crumble, was set off by a split violet artichoke (violets too in cooking are a speciality of South West France), blobs of Roscoff onion puree, nasturtium leaves and jus. Mains included roasted Anjou pigeon with veal sweetbreads; red mullet, braised fennel and brandade; beef fillet with potato gratin; braised and crispy Kildare lamb, cauliflower and a light curry infusion.
Loin of Thomas Salter's free range pork for my guest was hearty perfection, with great crispy shards of crackling, Bramley apple, coco beans and thyme sauce. I loved my Turbot (€30) with vegetable risotto. I somehow was imagining a big bowl of rice with pieces of turbot mixed through, but of course not, it was a perfectly-judged, firm but moist, tranch of this king of fish, resting on a mere whisper of risotto in a lobster and Madeira sauce. That's what people love about Neville's food – it's never heavy, he has an incredibly light touch.
Rising to the challenge
Desserts too were spectacular. From the PTM, a blackberry mousse with fresh blackberries and a sheep yoghurt sorbet, had a perfect tartness, while a perfectly risen (of course) mango souffle (€9.50), from the ALC, caused everyone to look, as it was borne aloft 'in state' from the kitchen, to be 'cut' at the table, with coconut and lime ice-cream.
The wine list is extensive, running up to €890 for Charlie Haughey's favourite Chateau d'Yquem, but the entry level is €29, with a big selection available for normal people like us, plus half bottles and wines by the glass, which is where we stayed. So, with one glass Albarino (€10) and one of Picpoul de Pinet (€8), plus bottled water (€4.50) and service, our bill came to €132.
Dax
23 Upper Pembroke Street, Dublin 2.
Tel: (01) 676-1494
dax.ie
lucindaosullivan.com
First Published in the Sunday Independent