Restaurant Review - Panorama Bistro at the Montenotte Hotel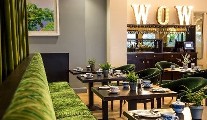 Wednesday 11 October 2017
Having had a base in Kinsale for many years, I am particularly familiar with the Cork restaurant scene, and, after a long period of the same-old, same-old, it is really good to see it picking up again, with a few new interesting additions to its repertoire. Some people on social media didn't particularly like the fact that, a while back, I referred to the Cork dining scene as being stagnant over the past few years, but the fact is, particularly compared to Dublin and Galway, it has been. It does have a vibrant street food scene, but there are only so many noodles one can consume, and a city needs good new restaurants to keep its end up, to stimulate the industry — and a bit of fresh competition also keeps old favourites on their toes.
Shuffling the pack
Rachel Allen's new restaurant, which has had its share of local criticism, is to my mind a great addition to the city; an upmarket spot where many family celebrations will be held in years to come. The new Cask Bar and Greene's Restaurant at Hotel Isaac's are both fab, while the Oyster Tavern, which, as yet, we've been unable to try, has been re-opened by Alan Clancy of House in Dublin. Down at Lapp's Quay, Beth Haughton and Harold Lynch closed their Club Brasserie after ten years, morphing the premises into Dockland, a deli/restaurant/bar which is due to open very shortly. Next door, the former Boardwalk Bar & Grill, previously owned by broadcaster Neil Prendeville along with John and Darina Gately, has been reopened as Tequila Jack's, and, while the food let the place down on my recent visit, hopefully they will get a grip on it. But, it's another of the Gately's former interest's, the Montenotte Hotel, which is the subject of my review this week.
Set high up, with unparalleled views out over Cork City, The Montenotte, was bought last year by Frankie Whelehan. He's a man who knows a thing or two about the hospitality biz, having been the founder and former head of Choice Hotels, and he's spent bucket load of money on this place.
Bistro bliss
We arrived without a reservation but managed to get a booth in the Panorama Bistro, where we were looked after by a brilliant waiter in a totally professional manner but also with a nice sense of humour. It's a fab room with floor to ceiling windows, a big bar and terrace, and oh those views, which we took in as we demolished a sharing board amuse of lovely breads and dips.
The menu is a very well-balanced popular French bistro brasserie style with prices overall running from €8.25 for seafood chowder up to €30 for their signature traditional beef Wellington. West Cork lamb can be had as a rack with a Dijon mustard crust, or in a Moroccan spiced tagine. Castletownbere seared fillet of turbot was paired with roasted peppers, sun-dried tomatoes, olives and asparagus, while Barbary duck breast cassolette had braised red cabbage smoked bacon and petit pois jus.
I kicked off with a generous and mouth-watering creamy baked crab au gratin (€11.95) topped with a herb crust, while Brendan enjoyed his equally good duck-liver and orange pate with winter berries, cognac, orange zest, homemade apricot jam and toasted sourdough (€8.95). I followed up with another starter; Bantry Bay king scallops (€14.95) served in the shell with a Mexican twist of chilli, lime, toasted hazelnut butter, diced fruit and cucumber, served with a crisp tangy pickled salad, and a side order of thick cut fries with garlic aioli (€3.50). Both dishes fitted the bill on a warm summer evening, while Brendan's 8oz sirloin (€25.95) also measured up, elegantly presented, clean cut and simple, with a slow roasted tomato and mushroom garnish, chunky chips and a side of tempura onion rings (€3.50).
All's well that ends well
Puds and cheese (€6.95-€13.95) included a single or shared chocolate tapas plate; tiramisu; sticky toffee pudding; and a delicious lemon posset (€6.95) with poached winter berries, white wine stock syrup, blackberries, raspberries and ginger-nut crust, to which I succumbed.
And so, the evening ended well. Our bill, with an aromatic New Zealand Marlborough Sun Sauvignon Blanc 2016 (€35) and service, came to €122.50.
Panorama Bistro
Montenotte Hotel, Montenotte, Cork
Tel: (021) 453-0050
themontenottehotel.com
lucindaosullivan.com
First Published In The Sunday Independent