Restaurant Review - Peploe's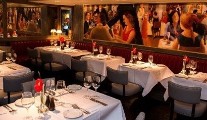 Wednesday 27 September 2017
Many of the hot restaurants opening in Dublin in recent times are owned by groups, all competing for the 'around town' market – It's the same in London and New York. The decor is always fab, but, as good as some of them are, it's mainly about the bottom line, rather than the love of food and wine. The same can't be said about Barry Canny's Peploe's on St. Stephen's Green, for Canny, who is as clever and hardworking as his name suggests, is a man who goes to bed at night dreaming about food and vineyards. He also has a knack for creating an atmosphere and devoted clientele. I first came across him when he opened a small French restaurant, L'Olive in Glasthule, over 25 years ago.
He then moved into the city with Browne's on St. Stephen's Green, a super brasserie, before moving down the street to open Peploe's, in a former bank vault, which has been one of the city's most popular and reliable restaurants.
Points for being on point
However, fourteen years on, and, conscious of always being on point, he closed for three weeks, reopening with a fab new bar and interior decor. We rolled up, without a reservation, for lunch on its very first day, and it was lucky that we did because, shortly afterwards, the place was as packed as though it were Christmas Eve! Peploe's reminds me of what places like Jammet's must have been to Dublin in their day, indeed Jammet's guestbook is on view at Peploe's with all manner of famous signatures.
Neil Mulholland is the Head Chef and delivers flavour, which, believe me is a relief when you regularly eat 'works of art' that taste of nothing! Mulholland started out his career as a young chap in Browne's before taking off and honing his skills around the world, returning five years ago to take over the reins at Peploe's. His style is classic with contemporary twists.
An offal meal
The 2/3 course lunch menu at €31.50/€37.50 had an octet of starters and mains. Not seeing an awful lot of offal on menus in recent years, I was fascinated by how many young guys around us chose the old French classic of lamb kidneys in a Pommery Mustard sauce with toasted brioche. Brie aux filo was with pruneau d'Agen, and the contemporary additions of pickled beets and squash puree, while organic salmon gravadlax was with crabmeat, cucumber, purslane salad, tobiko (flying fish roe) and toasted brioche. Italian style carpaccio of Irish beef and Parmesan was there, as were mussels with pancetta, cider, herbs and cream.
Agnolotti (pictured) are tiny little pasta parcels from Piedmont. Filled with crabmeat and topped with chorizo and gambas a la Plancha, the cheesy flavoured sauce melding into each little morsel was memorable. A deep, rich French onion soup too was a cracker.
Mains included slow-roast rump of Irish lamb with quinoa salad, BBQ sausage, polenta and jus roti while crabmeat crusted seatrout was with cockles, smoked bacon and potato puree; The steak man is catered for (€5 supplement), as is the chicken aficionado by way of chicken Milanese. Pies are always loved by men at lunchtime, and Brendan happily hopped on the cottage pie (there was also a fish pie). It didn't disappoint, and had that lovely golden colour on the rich piped potato that indicates butter or egg, or both. I had the Daily Fish, a tranch of wild seabass on a cassoulet of beans, chorizo and crabmeat, topped with long stem baby broccoli, and was again superb, as was a little copper pot of silky mash.
'La Dolce Vita' certainly reflected the good life, with Brendan indulging in a deep sinful chocolate fondant with honeycomb ice-cream, while I loved my passion fruit Pavlova with red currant sorbet.
Sweet dreams
With a glass of Chianti Senesi DOCG Valdipiataa Sangiovese 2014 (€8) for Brendan and a Pinot Blanc Domaine Dussourt, Alsace, 2015 (€8) for me, our bill, with optional service, came to €101.
The dinner menu is extensive with something for everyone and they are also doing light snacks in the bar. I'm hitting the hay now – dreaming of food, just like Barry Canny.
Peploe's
16 St. Stephen's Green,
Dublin 2.
Tel: (01) 676-3144
peploes.com
lucindaosullivan.com
First Published In The Sunday Independent