Restaurant Review - Dollard & Co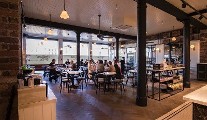 Wednesday 20 September 2017
As I sat facing into the kitchen of the new Grill Room, a free-standing square-island in the middle of the new Dollard & Co, I thought of Edward Hopper's famous painting Nighthawks in which solemn figures sit at a counter in an American diner, isolated in their own thoughts.
Set in the former Dollard Printworks, overlooking the River Liffey, Dollard & Co is the ground floor food hall element of the massive McKillen/Ryan Press Up Group project, which saw the launch of Roberta's, the hot bar-restaurant du jour, upstairs, some weeks ago, and will shortly see a steak bar in the basement. They're also behind more than 25 of Dublin's hot spots now, with more in the pipe-line, including a hotel in Ranelagh, a 'movie and dine' project at the old Stella cinema in Rathmines and a warehouse conversion near the 3 Arena.
An empty belly
I've sat up at many a grill bar in my time, from Japanese Teppanyaki to seafood bars, in many cities, where chefs work away on your dish with various degrees of flamboyance, and then pass it directly over the counter to the diner. At Dollard's, it would be good to see more cheffy/diner interaction rather than looking into a central underbelly of industrial kitchen equipment and seeing nothing interesting going on. After all, food nowadays is all about theatre and performance – and most chefs can't wait to show off their 'chops'.
At Dollard's, the social media generation were in the theatre's dress circle, but there was no show to see. The food is not even passed directly over the counter, it was picked up by our server from the pass, located on one corner, so she then had to traverse two sides of the square, perilously balancing plates of hot food, while sinuously negotiating the passing parade of deli customers, before presenting our meal to us awkwardly from behind.
Don't get me wrong, Dollard's is a lovely new store with a large cafe area to the front, and various food points for salads, sambos, and so on, as well as meat and fish counters, dry goods, and food concessions under the Dollard umbrella, like the Bretzel Bakery, the Traditional Cheese Company and Keeling's fruit and veg. Their in-house ready-meals aim, they say, to get away from the lasagne and shepherd's pie stalwarts, with gluten-free gnocchi, chicken with artichoke, broccoli and Parmesan, etc.
Mainstream munching
Anyway, the 'Grill Room Menu', from 12pm-9pm, covers starters, big salads, mains and hot sandwiches. While what we had was good, the selection was 'mainstream safe', including the ubiquitous BBQ ribs, wings, and chicken Caesar, as well as oysters, pasta, a cheeseburger or a striploin steak, priced at €6.50-€24.
I kicked off with a tasty 'small' crab and prawn cocktail (€10.50/€15.50), a tongue-tingling baby gem, crab and clearwater prawn melange, tossed in a tomatoey horseradish cocktail sauce, with toasted sourdough, while Brendan enjoyed his tomato and basil soup (€6.50), with OhArtagain's brown soda bread and country butter. I followed up with their extraordinarily good value 'Catch of the Day', a Mediterranean-style well-seasoned and seared fillet of seabass (€10) on crisp green beans, sauteed potatoes and chargrilled lemon. Fish and chips (€16.50) for Brendan was less successful, with the heavy, over-crisped batter becoming a full metal jacket. To be fair, it was only their first day – although we did, on being asked, tell two staff members. However, it remained on the bill. We passed on puds, but they looked great.
Corking corkage
The wine entry level was €27, with surprisingly few by the glass – two red, two white, one rose, all from Paddy McKillen's Chateau La Coste, plus two prosecco. You could also buy wines from the shelves and pay a hefty €15 corkage. So, with a glass of the premier cuvee rouge (€8.20), two waters (€2.80 each), our bill, with service for our charming waitress, came to €63.30.
The place looks great, but there's nothing food-wise we haven't seen before. It would have been more exciting if they'd aimed for the high end with, say, a Champagne & shellfish bar; a dim sum or Korean counter; something Middle Eastern, or just something a little bit exclusive to attract the big-bucks lawyers just across the river, dying to spend their dosh.
Dollard & Co.
2-5 Wellington Quay, Dublin 2.
Tel: (01) 616-9606
dollardandco.ie
lucindaosullivan.com
First Published In The Sunday Independent