Restaurant Review - Tequila Jack's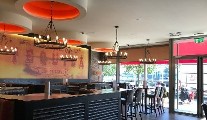 Wednesday 13 September 2017
"Is Beamish a light lager", asked the delightful young girl of Brendan, on his request for same, as she checked her techie ordering device. "Oh dear", he replied, laughing, gently putting her wise to the fact that Cork was the home of Beamish's famous stout for over 200 hundred years.
We were in Tequila Jack's, a vast new 'authentic' Mexican eatery and Tequila bar which had just opened, on Lapp's Quay. It's from the same team behind the popular bar/restaurants, East Village in Douglas, and Soho on the Grand Parade.
A Glamorous Glow
The decor is the business, with glowing amber lighting giving you a healthy tan, as you perch at one of the high tables or survey the scene from the grandstand circular leather booths. We were there at lunchtime on a sunny day, with but a few people at tables outside on 'de banks', and only a couple of others inside.
However, I was visualizing it packed and buzzy at night, which also made me wonder as to why they had only had a very small ladies' loo with just two cubicles.
There weren't any Mexicans dancing on their hats but, as one might expect of a casual Mexican eatery, Tacos, Fajitas, Tortas and Salads featured heavily, with a trio of House Specialities bringing up the rear. It was all fairly standard stuff, nothing too exciting, with prices on the lunchtime menu from €8.95-€16.95. The dinner menu featured many of the same culprits with the addition of a couple of euro on their price tags, the high end this time being €22.95.
I love hot spicy food and was looking forward to a bit of South of the Border fire, after all who does more varieties of chillies than Mexico?
Lukewarm and lacking
The Appetisers section (€3.95-€12.95) sported the ubiquitous nachos, guacamole, wings, tortilla chips and dips, so Brendan went for a Mexican version of calamari, in the form of corn crusted squid rings (€7.95), which, while plentiful enough, were luke warm and oily, as were the accompanying cold yucca crisps.
What seemed like acommercial Thai-style spicy sweet chilli sauce to the side, just seemed a lazy option, when there's a raft of Mexican dips and sauces with cilantro, chilli and lime, to be whipped up in seconds, that would have been so much more appropriate.
Queso Fundido (€6.95) was a little brown bowl of 'cheese fondue', with a quartet of cold tortillas on each corner, was tasty in the way dipping your finger into your mother's white cheesy sauce can be but it all tasted a bit 'floury'.
Unfortunately, things didn't improve. Brendan's grilled chicken tacos (€10.95) in corn tortillas were presented well, propped up between 'arms' on a special board. The tortilla was billed as grilled marinated chicken breast (which was cold and dry), Chihuahua cheese (a few shreds), black beans (missing), Avocado (yes!), Creme Fresca (the tiniest trace). Also on the board was a dome of tepid, tasteless 'Mexican rice' and a little watery Pico de Gallo salad, and again, no black bean salsa as billed.
Shrimp Alambre (€15.95) was equally unexciting, and bad value. It consisted of two skewers, threaded with three little shrimps between chunks of onion and green bell peppers. Billed as 'chilli-rubbed shrimp' they seemed more rubbery than rubbed, with little flavour, apart from one that I spat out, as it tasted, shall we say, 'doubtful'. The same bland, warmish rice featured on my plate, along with a sweetcorn, pepper salsa, and a half a rondelle of grilled pineapple; the best bit.
More like Mexi-Cork food
Abandoning the contents of one skewer, one taco, rice and salsa, our bill with a Heineken (€5), Diet Coke (€2.50), and service, (which we were rather pertly asked if we were adding, by a different, charmless girl), came to a not inexpensive lunch at €53.60.
Dry and dreary assembly jobs, there was no fire in this food, which could have been so much better with proper saucing and spicing. It's all very fine having a flash new premises, a spectacular bar, a waterside location, and over 50 Tequilas, but they need to have the food right too, because what we experienced was anything but 'authentic' – being more of the Katty Barry Mexican variety.
Tequila Jack's
Lapp's Quay,
Cork.
Tel: (021) 202-1002
tequilajacks.ie
lucindaosullivan.com
First Published in the Sunday Independent