Restaurant Review - Lava Rock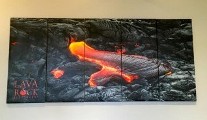 Wednesday 06 September 2017
We weren't aware, when we stopped for lunch, on spec, at Lava Rock in Cahir, Co. Tipperary, that they didn't serve any alcohol. It didn't make a whit of difference to us because we were 'on the road' and wouldn't have been imbibing away. It was just somewhat unusual, particularly out of the big smoke, but what a boon it is for locals, as you can bring your own wine and don't even have to pay any corkage.
We weren't aware either, that we were in for such a treat, until we observed the chefs in the open kitchen putting so much care and individual attention into each dish, as though it were a prime-time dinner rather than what was a very reasonably priced lunchtime menu. This was no 'rush-em-through' lunch-job, and it was clear too that some of the diners were regulars who knew that what they would receive would be worth a slight wait.
Soup or silence
We bagged a table in the main room to the front of the building, but I noticed, while heading for the loo, that there is also another very fine room to the rear and, particularly great for this time of year, there's a great al fresco dining area in the courtyard around to the side of the building.
The concentration, at lunchtime, was really on main courses (€10.50-€14), with the menu offering some seven of them, with soup of the day (€4.50) being the only starter option. It may have been the only starter, but oh boy was it a good soup, and it was great value too. A large piping hot bowl was filled to the brim with a sweet potato and butternut squash melange, which had a real kick, a hint of Morocco, and underlying elements of thyme. The bowl sat smartly on a white napkin along a board with two slices of crisp fresh homemade bread to the side – one brown and one very tempting white. It not only looked well, it was almost a meal in itself, which would see any traveller to the end of his journey. I even persuaded Sir, he not being a super souper, to dip his spoon into the depths of this rich golden elixir.
Heaven's plate
The mains on the menu had some very nice touches too. Chargrilled chicken strip salad had the normal salady bits but was lifted out of the ordinary by walnuts and dried cranberries, while a traditional stew of local farm lamb came with a baked potato mash. Their char-grilled beef burger on a multi-seed bun had a red pepper relish, cheddar cheese and home cut fries, while a mushroom panzerotti pasta was served with a herb and spinach sauce and Parmesan. Fennel and fish are a match made in heaven and quickly caught the eye of Sir, whose two fine fillets of perfectly seared haddock (€13) rested supremely on seared baby potatoes, and long stemmed broccoli, with a fennel sauce for pouring. Slow roast Jacobs Ladder beef rib (€13.50) for me was succulent, rich and tender on a potato and thyme gratin, with a little bowl of carrot and garlic slaw, and a deep intense gravy on the side. It was a dish that would delight any trencherman but managed to be elegantly served.
Deconstructing the dish
Desserts at €5.50 were an absolute steal. My creme fraiche raspberry tart was a cool deconstructed version in three tiers having a ramekin of superb baked creme fraiche, topped with a long rectangular 'pastry plank', for want of a better description, balancing a ball of ice-cream and six dots of tasty raspberry compote, and again topped with a chocolate shard dotted with apricot coulis.
If dishes like these, are what they 'whip up' at lunchtime, at such great prices, I want to go back for dinner and see what they do with the starters of pan seared scallops with sweet potato layers, crispy chicken skin cream and thyme jus; or the spiced tiger prawns with cumin coated croutons; or maybe their 'duck on toast' dish of smoked duck fillet slices on warm brioche toast, with flavours of raspberry and sesame, local cottage greens and parmesan crisps!
Including a mineral (€2.90) and optional service, we went on our merry way with a bill of just €44.40 and a real respect for what they do at Lava Rock.
Worth a detour!
Lava Rock
Castle Street,
Cahir,
Co. Tipperary.
Tel: (052) 744-5359
laverockrestaurant.com
lucindaosullivan.com
First Published in the Sunday Independent