Restaurant Review - Pink Salt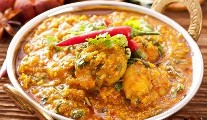 Wednesday 30 August 2017
The Victorian seaside town of Bray, Co. Wicklow, is a tad shy on good eateries, so when I heard that a new Indian restaurant, Pink Salt, was opening, I was out there pronto. Located in an upstairs premises at the Town Hall end of the town, it originally housed Shelby's restaurant, in the good times, and subsequently a Greek and a Lebanese restaurant for two brief incarnations. However, I learned a long time ago, that if the food, service and atmosphere are on the nose, people will go anywhere – and a lot of people like Indian food.
The team behind Pink Salt have a good pedigree, having all worked between them at Nisheeth Tak's fabulous Rasam in Glasthule, and for Asheesh Dewan's superb Jaipur Group.
Setting the scene
Pedigree aside, setting up a new restaurant is always nerve-wracking, and Maitre'd Jithin did a double take on spotting me, when I rolled up on their first Sunday evening of opening with Sir in tow, as we were being seated quietly in a corner by a delightful young waitress. The Bray Festival was on and they'd had a food stall down on the seafront, leaving the restaurant slightly short staffed at that point. On top of that, all the local Indian food aficionados seemed to have already discovered them and were pouring up the stairs behind us.
It's a big modern space over two floors, which, last time I visited, gave no hint of the Lebanese food or atmosphere it claimed to provide. This time around the guys have added the all important colour and life, it just felt good. "They'll do alright here", I said to Brendan, who nodded in agreement, chomping on poppadoms and dips as though there was no tomorrow. Suddenly, there was a rapid return of the crew from the seafront and we were away!
A 'salt' on the senses
Pink Salt, incidentally, is a Himalayan rock salt that is supposed to be good for you – like so much else nowadays! I bought a big 'grinder' of the stuff in Lidl a while back and, whatever about its benefits, it looks pretty and summery. A dozen or so starters (€5.50-€10.95) included Punjabi samosas; Malai tikka - cream cheese and cardamom marinated tandoori grilled chicken; and prawn chilli Andhra – a sizzling affair of juicy prawns coated with star anise and chilli, black salt and coriander. Calamari was there too as well as a Himalayan pork fry. A good way to get an overview of starters is with their selection platter. Brendan went with aloo tikki (€5.50), crispy fried spiced potato cake, dressed with tamarind and honey, while I had Kerala jhinga (€8.95), a brace of fab spiced jumbo prawns, pan seared and presented with fresh mango and melon salad. That's a must have!
The main event
Mains (€11.95-€21.45) sported all the popular dishes of the sub-Continent, from prawn jalfrezi to lamb rogan josh, tandoori lamb shank to chicken tikka masala, Allepey coastal fish curry to a Mansahari thali, which again gives you a selection of dishes. We were attracted by two traditional dishes, which we haven't really had for a long time, chicken korma (€14.95) and basmati rice (€3) for Sir, and Lucknowi biryani (€17.95) and peshwari naan (€3) for moi. People think of korma as being very mild and bland, but Chef Anubhav's was a masterfully aromatic version, as I would have expected, a lovely pale golden colour reflecting the colours of mace, dry rose petals, cashew nut and cardamom. The lamb biryani was equally delicious. Biryani is a one pot dish where the meat is cooked in a cassolette with aromatic spices, ginger and basmati rice, and a little sauce on the side to moisten it.
Desserts included ice-cream and sorbets as well as malai kulfi, homemade Indian ice-cream served with rose scented basil seed, but I decided on hot gulab jamun (€5.50), a delicious soft milk based Indian dessert, which looked like two little nutmeg coloured balls sitting in a honey syrup with a scoop of vanilla ice-cream on the side and mango coulis dots.
The entry level for wines is €19, which is also good value, and with a glass of Argentinian, Bodegas Lurton, Piedra Negra Malbec (€7), for Brendan, and a bottle of mineral water €3.95, our bill with optional service came to €76.80.
A great addition to Bray.
Pink Salt,
73 Main Street, Bray, Co. Wicklow.
Tel: (01) 561-1777
pinksalt.ie
lucindaosullivan.com
First Published In The Sunday Independent.