Our Latest Great Place To Eat - Wild & Native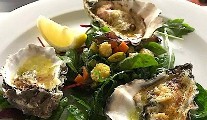 Tuesday 29 August 2017
At Wild & Native they pride themselves on 'low food miles', striving to ensure that their menus are local and fresh, and provide their customers with the kind of foods that their ancestors would have eaten – hence the name. The F word is the thing here, with accomplished Chef Fergal being a big fan of foraging for all kinds of natural delights to treat his patrons.
On a recent escape, and following a lovely afternoon by Rosslare Strand, Brendan and I wandered into Wild & Native on the hunt for an evening meal. The restaurant itself is bright and modern, with clean creamy walls, some nice dark wood work and yellow leatherette seating. A really nice, welcoming décor, for a seaside spot, capturing that fresh airy feeling of being by the beach.
Starters, on our visit, included white bait served with a dill and lemon mayonnaise, calamari and octopus served with a homemade tartare sauce, as well as a prawn cocktail with a sherry spiked Marie Rose sauce. Their blue cheese and pear salad was dressed with balsamic vinegar while their fresh Wexford mussels veloute was on offer with fresh brown bread. I went straight for the Rosslare crab claws which came, beautifully presented, with a delicious garlic butter, and I was delighted, while Brendan stayed on dry land with a zingy order of Peri Peri chicken wings with a blue cheese dip, which he enjoyed immensely.
For the mains, there were lots of great fishy finds, like seared sword fish served with a Ponzu sauce, Rosslare's crabmeat mornay with Wexford cheddar, or black sole served with a lemon and caper butter. Those who prefer to stay fishy free, will be happy to know that Sheelin's rib-eye with foie gras and a truffle jus was also on deck, along with cornfed chicken with goats cheese, white wine, spinach and thyme. Brendan quite fancied the wild salmon, a beautiful tranch of the au natural fish-fave, which was well complimented by its accompanying Hollandaise sauce. I, on the other hand, had my eye on their razor clam spaghetti which was a generously portioned, yet utterly moreish dish made even better by the delicious drizzling of chilli and garlic olive oil.