Restaurant Review - Slane Castle - The Gandon Room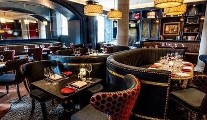 Wednesday 23 August 2017
A summer Sunday lunch with Brendan seemed the perfect way to check out the new Gandon Restaurant at Slane Castle in Co. Meath. We've all seen pictures down the years of the Conyngham family scion, Lord Henry Mountcharles, pioneering Rock Concerts on the Estate, or devastated when a fire destroyed one third of the castle, closing it to the public for ten years.
However, you don't really get the picture 'til you drive through the gates and look down at the solemn castle standing like a great bulwark from a historical blockbuster. Over the years, every rock supremo in the world has played at Slane, from Mick Jagger to Freddie Mercury, David Bowie to Bruce Springstein, Bob Dylan to Guns & Roses, who made a return this year 25 years after their first gig there.
The spirit of Slane Castle
A couple of years ago Lord Henry and his son Alex Conyngham partnered with Brown Forman – the US spirits giant who make Jack Daniels, Southern Comfort and Finlandia vodka – in the construction of the €47m Slane Distillery producing Slane Irish Whiskey, and this is due to open very shortly. So, it is all go in the Boyne Valley.
There are two dining areas at Slane Castle now, operated by Fitzers Catering, Browne's Bar, a clubby-style bar filled with rock 'n roll memorabilia. It was the former sitting room of Mary Browne, a Kerry woman, who first joined Slane as a lady's maid to Lord Henry's great grandmother, and went on to be the Castle's much loved housekeeper.
We were dining in the library style Gandon Room, named for the 18thC architect, James Gandon, who also designed Dublin's Custom House, the Four Courts and King's Inns. We were joined by Paula Carroll, who knows more than a thing or two about castles and celebrities.
One of the really great ambassadors for Irish tourism, paula is celebrating 30 years as Sales Director of the amazing Ashford Castle at Cong, where Rory McIlroy tied the knot earlier this year. She probably spends more time in the air over the Atlantic than he does.
Modern Irish cuisine is the focus here, with the Head Chef being Catherine James Budriene. The 3-course Sunday lunch menu was €35, with children's half portions at €12.95 and a junior menu for €7.50. Paula kicked off with a tender stem broccoli and potato melange served with treacle brown bread, both of which she loved. A very substantial rondelle of hazelnut crumbed baked goat's cheese for himself, paired with watermelon and a fire roasted red pepper jus, was enjoyable, while I had a perfect crab and dill salad with cucumber and pressed beetroot.
Swamped with sauce
For the mains, Paula enjoyed her herb crusted baked cod fillet with a creamy mascarpone sauce, presented in a contemporary style with roasted root vegetables and mash. Brendan's 28-day dry aged roast sirloin of beef had a two slice trencherman portion flaccidly draped across mashed potato and roasted root vegetables, the lot coated with a dark brown sauce. While the beef was fine, the presentation was a bit 'agricultural' and off-putting and needs to be re-thought. My dish, on the other hand, the winner of the day, was chic and contemporary, truer to the 'modern Irish' mantra. It was a perfectly cooked, slightly pink, Silver Hill duck breast, sliced vertically, and laid in a bowl with Asian greens, asparagus, butternut squash puree and an Oriental-tinged duck jus. Clean-cut and simple, the flavours were delicious.
The sweet side of Slane
Desserts were excellent. Creme brulee for me, served in a traditional Franco Moroccan style flat dish, was infused with ginger and served with shortcrust biscuits, and was a light and lovely treat. Paula's chocolate and raspberry sponge was heavenly, while a Slane whiskey and toffee date pudding for Brendan was rich, moist and definitely sinful.
Washing all of this down with a glorious, complex citrusy Marlborough, New Zealand, Te Pa Sauvignon Blanc 2016 (€39), our bill with optional service, water (€5.50), a double espresso (€5) and a side of roast potatoes (€5) came to €175.45.
Rock on up the road.
The Gandon Room,
Slane Castle,
Slane,
Co. Meath.
Tel: (041) 982-0643
slanecastle.ie
lucindaosullivan.com
First Published in the Sunday Independent