Our Latest Great Place To Eat - Granvilles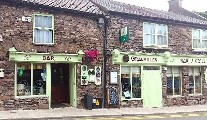 Thursday 03 August 2017
Set in a very attractive traditional stone front building, it's the oldest licensed premises in Macroom. We felt immediately at home at this welcoming bar & grill, with its rough old-style brick work interior, warm wooden furnishings and friendly service. After a quick drink at the bar for himself, we made our way over to a cosy little table in their dining area and began eagerly scanning the menu.
The wealth of local and seasonal Munster produce available to them is being put to good use by the Head Chef Alan Murphy, including the inspiring Toonsbridge halloumi cheese which is actually made in Macroom, and seafood from Kenmare.
On our lunchtime pit stop, starters included creamy seafood chowder, flash fried Brie in filo pastry with a salad garnish, redcurrant and a port reduction, as well as their soup of the day. Always a big fan, and often cooking it himself at home, Brendan quickly said 'oui oui' to their hearty French onion soup which he thoroughly enjoyed with its slow cooked onions and Dingle cheddar crouton. I quite fancied the idea of their pan-fried prawn bruschetta, which turned out to be a delicious Italian treat with flavours of white wine chilli and garlic.
They have a healthy selection of sambos on their lunch menu all of which are served with a salad and, at a supplement, fries. They have a toasted special with ham, Dingle Bay cheddar, tomato and onion, along open sandwiches, melts and a tempting chicken tikka wrap, but, we were famished, and our minds were on the mains. Gourmet pork with apple bangers and mash sounded delightful with its red onion gravy, as did a deep-fried fillet of fresh haddock with chip, mushy peas and tartare sauce. A grilled 6oz prime Irish sirloin Hereford steak is sure to have the carnivores drooling, with mushrooms, onions, fries and a salad on the side and a choice of garlic butter or pepper sauce, and their pan-fried breast of chicken Schnitzel was tempting as well, but I, sticking with the fishy flavours, had my sights set on their Thai style fish cakes which were really good, tasty and fresh, and accompanied by a welcome side of fries and a little pot of sweet chilli mayo. Brendan happily dug into a grilled 6oz salt dry aged Kettyle burger served in a toasted brioche bun with Follain relish, Dingle cheddar, as well as fries...