Our Latest Great Place to Eat - Belle's Kitchen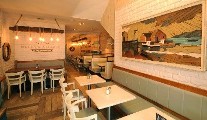 Thursday 27 July 2017
Just a short walk from the popular beach in Rathmullan, Co. Donegal is Belle's Kitchen on Pier Road sitting beside its sister biz, the Salt 'n Batter fish and chip shop. This fantastic family run café/bistro, open from breakfast through dinner, is a great find. The décor here is light and airy with a contemporary nautical bistro vibe. It's the kind of place that feels high end, but has no stuffy airs about it. My friend Bayveen and I had been travelling from Dublin that afternoon and were both rather hungry by the time we arrived at Belle's.
The menu here is substantial with lots of light bites and lunchtime winners to choose from including a selection of ciabattas ranging from bacon and oak smoked cheese with onion marmalade to chilli and garlic chicken with roasted bell peppers. They had several toasted sandwiches to choose from along with a variety of wraps as well as a selection of Nordic flatbreads and filled baguettes served with chips. However, we had more of a traditional a la carte appetite, when we visited, and choose to eschew the lighter bites in favour of some more substantial sustenance.
Starters at Belle's Kitchen, when we were there, included crispy chicken wings with BBQ dip, a chilled Irish sea prawn cocktail as well as marinated butterfly king prawns which were also available as a mains. I was in the mood for something a little fishy, and they are obviously really good with 'fishy', and was delighted with Ronnie's Homemade Seafood chowder, a delicious bowl of perfect poisson served with some freshly baked homemade bread. Bayveen went for the crispy panko squid rings, beautifully presented with a chilli and garlic dip, which she was very happy with.
For the mains, there were a selection of flame grilled homemade steak burgers served with either chips or a salad, which included a 6oz bacon and cheese burger, a Hawaiian steak burger with lettuce, coleslaw, cocktail sauce and grilled pineapple, as well as a cheese steak burger in a toasted brioche bun. There was lots of cold and hot salads on offer too, and when it came to pasta, all the usual faves like Bolognese, carbonara and Napolina, were present and accounted for, along with a few less familiar but enticing choices such as their Donegal crab linguini with onion carrot, chilli, lemon and garden peas in a light white wine cream with Parmesan cheese. Their were lots of meaty dishes available from the butcher's block also with a flame grilled 10oz sirloin with crispy onion rings and a side of your choice or a chargrilled gammon steak with fried eggs or grilled pineapple and a sisde of your choice as well. There were some tasty looking chicken dishes available with curry, korma and battered goujons all being touted, not to metion an egg-celent array of 3 egg omelettes to choose from. In the end, I went for their fresh breaded scampi, perfectly prepared with a tasty light batter, and, on the side, my choice of hand cut chips. Bayveen stuck with the fishy fare also, opting for a jealousy inspiring dish of Donegal crab linguini with onion, carrot, chilli, lemon and garden peas in a white wine sauce topped with Parmesan...