Our Latest Great Place To Stay & Eat - The Westgrove Hotel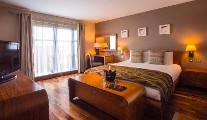 Friday 21 July 2017
A perfect base for 'Eastern explorers', the Westgrove is ideally located right in the middle of things, just 10 mins from the M4 and M7, along with speedy access to spots like Punchestown, Naas, the Curragh or the Kildare Shopping Village. The town of Clane itself is steeped in history with the ruins of a 13C Franciscan Monastery still there today and the parish of Clane was also the site where the famous rebellion of 1798 began, a serious of battles and uprising between the United Irishman and the English Yeoman. Today, the Westgrove is also a popular wedding venue and it isn't difficult to see why.
The moment you arrive outside the Westgrove Hotel, you get a feeling of grandeur from this stately looking, castle inspired hotel, and once you head inside, you won't want to leave. From the grand staircase in the spacious lobby to the high ceilings, atriumed foyers and stylish décor, this place is a beacon of good taste and a perfect marriage between contemporary and classic design.
Among the 96 guest rooms at the Westgrove there are deluxe rooms, executive apartments and an array of suites to cater all needs. Their deluxe rooms range in size, some offering King size beds, but all come as standard with flat screen TVs, trouser press, toiletries, tea and coffee facilities and a hairdryer, along with high end Egyptian cotton bed linens. For a taste of the good life book a stay in one of their 5 over-sized suites complete with lounge and kitchen areas, 2 TVs and delightfully fancy bathrooms with double shower units, oval double baths, as well as complimentary fluffy bathrobes and slippers. I suggest going for the Wogan Browne Suite with its atmospheric balcony. Their Executive apartments are a real step up in self catering luxury with lots of floor space that includes separate bedroom, living room and kitchen areas, decorated just as stylishly as the rest of the hotel.
Before you head out for all that arduous exploring, be sure to check out their award winning spa and fitness facilities, which include a 20 metre deck pool, a kiddies' pool and a steam room as well as a state of the art gym with all the modern fitness technology one might expect. If however, you're more of the pampering sort then check out Westgrove's fantastically atmospheric Spa Haven, where their expert team will make all your worries melt away with massages, hydrotherapy and a whole range of other relaxation and beauty treatments.
When it comes to food and drink at Westgrove, there's plenty on offer to suit every palate, with their Coffee Bean café being the hotspot for a morning bite or a light lunch, while their Oak Bar is great pick for some great bar food a couple of cocktails or even a full night in a contemporary cool and buzzy atmosphere. The main event, however, when it comes to dining at the Westgrove, is the fab Assagio Italian restaurant...