Restaurant Review - Poke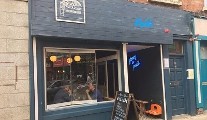 Wednesday 05 July 2017
I've always maintained that seafood restaurants are a sure path to success because most of us love fish and shellfish and consider it something of a treat when eating out. Yet, unlike our Spanish and French cousins, who cannot get enough of the bounty of our clean Irish waters, many still have that hangover from the old days about cooking our poisson at home – unless its battered or crumbed in a box. My mother used to say "you can't get the smell out of the house", while my brother-in-law hid 'his' knife and fork every Friday in case it was contaminated by getting anywhere near a denizen of the deep.
The fish market
Fish is not cheap and many of our seafood restaurants, while very good, are on the higher end of the price scale. Having previously had Rock Lobster restaurant, first in Donnybrook and then moving on to the upmarket Harvey Nichols in Dundrum Town Centre, Niall Sabongi changed course from formal dining a couple of years ago and, since then, has been on a mission, very successfully I might add, to make fish an accessible everyday choice.
He first opened Klaw in Temple Bar, a tiny 12-seater space on Crown Alley, a couple of years ago, which soon had the hipsters, blipsters and tourists, shucking and sucking on oysters, before klawing their way through lobster rolls and crab, as though there were no tomorrow.
Mission in poisson bowls!
Sabongi has been working on two new projects, the first, Klaw Poke on Capel Street, another sassy little spot combining what Klaw does in Temple Bar with Hawiiaan style 'poke bowls', has opened, while The Urban Monger, a fish shop and grill bar over three floors, is due in South Great George's Street in November. Here you'll be able to choose your favourite fish and either bring it home to cook, or have it cooked right there and enjoy it with a glass of vino, just as you might do in San Francisco or Barcelona.
There are no kitsch girls in Hula Hula grass skirts at Klaw Poke, festooning you with floral garlands to the strains of 'she wears red feathers and a huly huly skirt', but you will get a warm 'aloha', and their cheeky slogan here is 'fancy a poke'. Traditionally the 'poke bowl' (pronounced poke-ay) has chunks of 'raw' tuna marinated in soy and sesame. 'Poke' is basically a 'cut or slice' rather than an actual fish – but all types of seafood are now used. A cross between East and West, with Japanese and other South East Asian flavours blending with traditional Hawaiian sweet pineapple, it's a healthy casual fast food, which can't be bad.
Shellfish pleasures
We bagged ourselves a prime spot on two long school benches beside the 'glassless' window, which brings the atmosphere of the street and the colourful passers-by into the restaurant. A couple sat on stools with their dog (dog food and water facility in doorway) on the other side of the window, as Bayveen and I, arming ourselves with two glasses of chilled Picpoul de Pinet (€7 each), kicked off with a skillet of great clams (€15), sauteed in garlic and chilli with smoked bacon and sherry, finished with Heirloom tomatoes from Swords and served with crispy toast and lemon.
Bayveen was delighted to discover that she was supporting her home county of Sligo, with the tasty bivalves being from the Lissadell Hatchery, situated on the northern shore of Drumcliffe Bay, on one of the old farmyards in the Lissadell Estate. We also enjoyed a brace of harissa and lime butter yakitori-grilled gambas (€15). We were having a veritable fish feast and great chats, but we weren't there to talk the talk, we were there to poke the poke.
The poke bowl works in four stages – Stage 1 is picking a base from brown rice, quinoa, rice noodles or wild leaves. Stage 2 is the protein, and determines the price, ranging from €7.50 for octopus to €15 for lobster. Stage 3 and 4, are sauces and toppings. Bayveen had Ahi tuna (€8.50) on a base of brown rice, with a ponzu (soy citrus combo) dressing topped with edamane beans, nori seaweed shreds and radish, while I had pulled lobster meat (€15) on quinoa, with sriracha aioli, topped with salty pineapple, pickled ginger, macadamia nuts, avocado and nori shreds. Suffice to say we loved them both.
Having klawed and poked our way through the fab fishy fare, our bill with optional service came to €77.50, which certainly didn't leave us reeling, in fact you could say we were hooked.
Klaw Poke,
159 Capel Street, Dublin 1.
Tel: (01) 556-0117
facebook.com/klawpoke
info@lucindaosullivan.com
First Published In The Sunday Independent