Our Latest Great Place To Eat - Quay West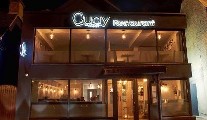 Monday 10 July 2017
With fantastic views out over Donegal Bay and a fresh airy contemporary décor, Quay West has an atmosphere that is really tough to get right, but it's award winning chef owners, Debbie O'Reilly and Jo Roarty, make it look easy. Set on two levels, the downstairs seating is intimate and secluded whilst the upper deck, so to speak, is open and offers the best spots for those wonderful views I was talking about.
We had spent the day travelling and after being walked off our feet on a few detours along the way, we were delighted to be finally sitting down to dinner and decided to kick things off with a 'Quay West Classic' cocktail of vodka, peach schnapps, cranberry and orange juice, for me, and a Devil's Backbone amber ale craft beer for Brendan, while we browsed the a la carte.
It's all about local produce here, where the aim is to provide delicious, nutritious, affordable food sourced from the finest of Donegal's local suppliers and producers. On the evening we visited, starters included king prawn gratin with garlic butter and an Irish mozzarella crumb crust, served with brown soda bread; golden crumbed mushrooms with a garlic and parsley mayonnaise; as well as some cheesy garlic bread with creamy mozzarella and Irish cheddar cheese on warm sourdough bread. Their wild Atlantic seafood chowder of salmon, cod prawns and mussels sounded great, as did the grilled Inver Bay mussels, but instead I reeled in some 'Shellfish 'n' Sourdough', a tasty collection of Burtonport crab claws and king prawns, served with a garlic and citrus chive cream, and accompanied by sourdough toast. Brendan opted for their chicken wings, which proved a healthy portion of finger lickin' flavour with their smoky maple and spicy sriracha glaze.
For the mains, there was plenty to choose from with a selection of salads, available as starters or mains, including warm goats cheese salad or a beetroot and Donegal Silkie Whiskey house-cured salmon salad. Their chargrill menu had plenty for the meat eaters to chew over with sirloins, fillets and ribeyes all making an appearance, whilst their Quay West classics included some really tempting dishes like a Guinness braised shank of Donegal lamb from Eddie Walsh's farm, served with spring onion mash and roasted root vegetables, or some golden chicken goujons in garlic scented breadcrumbs served with garlic and parsley mayonnaise. I, however, had my mind set on their seafood selection, full of fab fishy treats like natural oak smoked Killybegs haddock, with sauté potatoes, and bacon & leek in Algaran seaweed butter; or salmon gremolata with a lemon and herb crust, a medley of summer veg and potatoes.