Restaurant Review - Roberta's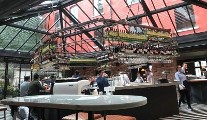 Wednesday 28 June 2017
Paddy McKillen Jr and Matt Ryan's Press Up Group is forging full steam ahead in providing Dublin city with some of the hottest places to eat, drink and be merry. They've already given us The Dean Hotel, Sophie's at the Dean, Peruke & Periwig, and more recently Angelina's, overlooking the Grand Canal at Baggot Street Bridge. They're also working on a new boutique hotel in Ranelagh, and have recently acquired Howl At The Moon on Lower Mount Street, with an eye to doing the same thing, subject to planning.
Their latest hot spot, Roberta's, is a 220-seater bar and eatery, on the first floor of the historic former Dollard Printworks, running right through from Temple Bar's East Essex Street on one side to Wellington Quay on the other.
Roberta's is the first part of the development in this building to open. The ground floor will be Dollard & Co, a food market and restaurant, and the final part of the plan is a basement steak house.
That first class feeling
"I love love love it", I said to my guest as I looked around. It felt like dining in Grand Central Station, and I love a constant buzz. The focus here is a big marble 'island' bar set in the middle of the room under a high glass atrium. Around the walls of this big bright space sits a wood fired oven, an open kitchen headed up by Aussie Head Chef Troy Watson, a glass fronted, open roofed, garden terrace, walkways to the different more intimate dining rooms looking out over the Liffey, and what I have dubbed 'The First Class Carriage', a long boothed dining area, set behind a rail, for the see and be seen crowd to do their people watching.
Hot cheese and secret cuts
The food is eclectic contemporary casual. It's the sort of place you can go and have a few cocktails and a pizza (€14-€16) with interesting toppings such crispy braised pork with fennel, chilli, olives and Parmesan. Alternatively, share a few starters (€8-€14). Yellowtail Amberjack sashimi is with crispy pork, lemon oil and purple shisho, while wood-fired duck hearts are paired with sesame, chilli, coriander, kohlrabi remoulade and smoked mayonnaise. Or, you can go the whole hog with mains (€20-€33) like lamb rump; sirloin and fillet steaks; a brace of pasta dishes or crispy skin cod.
My guest's potstickers (€12) (pictured below) were a natty foursome filled with caramelised oxtail, sitting in robust soy and ginger enriched braising juices. It is apparently 'move over mozzarella and burrata' time, with stracciatella being the new hot cheese of the moment, so naturally its going to be on the new hotspot's menu. The menu described its Stracciatella (€9) as 'Italian style soft cheese', so I'm not sure of its provenance and I'm probably committing sacrilege by saying it reminded me of cottage cheese. However, rather liking cottage cheese, I was happy with this soft creamy fromage which came mixed with a lemon confit on slow braised fennel with toast. It would be great too mixed with anchovies, capers, olives or anything in that vein.
Iberico Secreto (€24) for me had slices of delicious flame grilled pork laid out petal style with fennel two ways, charred and as a salad. My side dish of roasted cauliflower (€5), on cauliflower puree, with golden raisins and curry oil was great as well. My guest went down the pizza route with 'Chorizo' (€15) matched with 'Nduja, Ligurian olives, rocket and Pecorino, which he rated as 'up there'.
Four puds (€7/€8) included chocolate fudge cake, an ice-cream sundae or lemon brulee, as well as a cheese selection at €11. We shared 'Pineapple' (€8) a refreshing plate sporting a chunk of warm caramelised pineapple, a quenelle of pineapple sorbet, a rectangular piece of upside down cake, and a caramel and pineapple crisp, providing a fresh fruity sweet end to the evening.
Sips & swigs
There are cocktails (€11), beers and bubbles, to beat the band. The entry level of wines was €27 running up to €210 for a 2014 Corton, Le Clos du Roi, Camille Giroud, if you're feeling flush. There were eight each red and white wines available by the glass and, with three glasses of Linteo Inzolia Terre Siciliane (€7.50 each), our bill, with water (€5) and optional service, which was excellent, came to €110.50.
Roberta's,
1 Essex Street East,
Temple Bar, Dublin 2.
Tel: (01) 616-9612
robertas.ie
lucindaosullivan.com
First Published In The Sunday Independent