Restaurant Review - Screebe House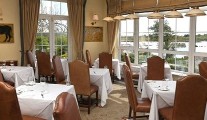 Wednesday 21 June 2017
Fledgling swallows, Pierce Brosnan and Princess Diana's Bentley were all part of our recent experience at Screebe House in Connemara. Originally a hunting lodge on the Ballynahinch Castle Estate, Screebe is set on 42,000 acres, making it one of the biggest privates estates in Ireland.
It has been owned for many years by the German Burkart family of Zehnacker Healthcare, who have a love not only for Ireland's huntin' shootin' and fishin' lifestyle, but also cars. It had been available for private rental but is now taking a different route, offering adult-only luxury guest accommodation in superb surroundings and, these days, it's got serious foodie ambitions.
The attention to detail, not just with the fantastic interiors, but on all levels is incredible. It's not a hotel though, it's a total country house experience, orchestrated by the ever attentive Duncan Cusack who, with a five-star hotel pedigree, manages both Screebe and its guests with aplomb and style.
Double-0 heaven
Having settled into our room, overlooking magnificent gardens on one side, and the low-line spa building and pool on the other, we came down for an aperitif to find a three-picture collage of the devilishly handsome Pierce Brosnan looking down from over the bar. He is flanked on either side of the room by two enormous mounted deer heads — The Pirate and The Mugger!
All three proved a talking point as we had our Campari and soda (€5) and Jameson (€5), before being seated by the delightful restaurant manager Suzi at a window table overlooking the formal rose garden and its a quirky gnome, not to mention views out over the waters of Camus Bay.
One of the new breed of ambitious young chefs, Damien Ring, has done his stint working abroad including the Michelin Balmoral Hotel in Scotland; Simon Rogan's two Michelin starred L'Enclume in Cumbria and, more recently, at Ashford Castle. He's now making is mark at Screebe, where 42,000 acres gives him amazing opportunities for sourcing venison, woodcock and snipe, plus an endless seafood bounty. We were on an overnight rate of €338 including a four-course dinner. There's also a nine-course tasting menu at €70.
Divine food
We kicked off with a divine amuse of smoked eel on an intense onion consommé base with a swirl of silky buttermilk mash topped with crispy shallot rings and purslane. This was followed, for Brendan, with tartare of West Cork Wagyu beef (€14.95). Pretty as a forest floor, the tartare, dressed oysters and pickled cucumber pearls were concealed on a black plate under miner's lettuce with nasturtium flowers and crunchy porridge wafer shards. My scallops (€14) were well seared, achieving a lovely golden colour yet retaining the creamy soft interior which worked with the complementing colours, shapes and flavours of roast pear, artichoke wafers and cream, preserved truffle and micro diced lardo.
Perfectly pink and tender Barbary duck breast (€32) for Brendan was offset with kohlrabi, wilted greens and creamy mash on the side. I loved my lightly seared John Dory fillets (€30) — meaty and moist, arranged with textures of cauliflower wafers, fried quail eggs, mussels, crispy chorizo balls, and a herb beurre blanc.
Dessert too was ace with a well-behaved tonka bean soufflé (€10.50) standing proud alongside piped florets of warm chocolate, roast walnuts, and ice-cream. Irish farmhouse cheeses included Young Buck Blue, Cavan Camembert, Ardsallagh Goat's Cheese and Coolattin Cheddar. Coffee was accompanied by petit fours, jelly and chocolate. With a bottle of New Zealand Marlborough Three Wooly Sheep Sauvignon Blanc 2016 (€33), our bill, with service, came to €393.
After dinner, we were shown the garage, where the car that had ferried Princess Diana around, a green Bentley, stood in state, overlooked by two sweet little swallows which were being nurtured by Chef Damien. It was the perfect end to the perfect evening.
We didn't go deerstalking, fishing or clay-pigeon shooting, or even get to relax in the spa, but it was paradise all the same.
Beat a path...
Screebe,
Rosmuc,
Connemara,
Co Galway.
Tel: (091) 574-110
screebe.com
lucindaosullivan.com
First Published In The Sunday Independent