Our Latest Great Place To Eat - Michael's Mount Merrion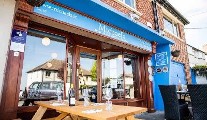 Thursday 15 June 2017
Laid back and friendly, the place is bursting with atmosphere, they do great all day food, bites and treats, as well as an a la carte menu with classical Italian and French influences that could satisfy even the fanciest foodie.
The focus here too is on really good, fresh, local seafood, with daily supplies of great poisson, prawns and lobster, coming directly from small independent fishermen in the region, as well as impeccably sourced meats that are then aged in their own ageing room.
Head Chef Patron Gareth Smith, formerly of Chapter One, the Chart House and the Ledbury in London, has a passion for great food, and, since taking over Michael's in Mount Merrion, the food there has really been kicked up a notch. I have had 'Gaz' Smith's divine food on a number of occasions and he is one chef who really captures flavour in everything he cooks. His Howth Bay crab claw and langoustine gratin is to die for, as are the king scallops in a smoked salmon cream, while the overnight slow roast Kerry mountain lamb will have you gambolling home delighted with yourself.
On my most recent visit, their Starters, Antipasto and Salad menu included wild duck and mushroom arancini; a spring salad of poached chicken with avocado, roast beets, hazelnuts and pecorino cheese; as well as an osso bucco of John O'Reilly's rose veal with crispy hand made goats cheese ravioli. I considered one of their two antipasto plates but in the end was drawn to the crab salad of Ted Browne's Dingle Bay pincher in a citrus aioli with avocado, mango and dill. Brendan eschewed the starters menu, instead ordering from the selection of nibbles, which included tender stem broccoli with pine nut butter, roast baby potatoes with Irish sea salt and rosemary; and mozzarella bocconcini. He went for a Dublin Bay prawn and wild garlic flat bread which he found very tasty.
The main event here is all about great, skilfully prepared seafood. On the menu, when I dropped anchor, were wild Irish mussels in a Cococciola white wine, garlic and lemon cream, with a side of your choice; as well as a seafood linguine of Dublin Bay prawns wild Irish mussels, Palourde clams and baby squid in their house marinara sauce....