Restaurant Review - Sivad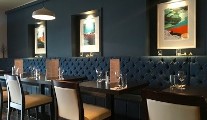 Wednesday 14 June 2017
While Monica Galetti and Giles Coren have been taking us around the world on their new TV show Amazing Hotels, Hidden Restaurants with Michel Roux Jnr has been searching the UK for restaurants in unlikely places or settings. These have included his own converted Kent oast house, the almost unbelievable Treehouse in Northumberland, an eatery in a converted shipping container and a Latin American 'bustaurant'.
High rents and the hipster generation have inspired a lot of creativity here in Ireland too, as guys search out unusual and inventive locations to showcase their food to an eager audience. However, the shine seems to be fading slightly for one of the great hipster status symbols of recent years – Brunch. Are the bearded ones benedicted and burgered out? It would appear so, as they have now cottoned on to the fact that they end up late afternoon, with a belly full of cocktails and craft beer, no room left for 'the dinner' and a longing for the Mammy's Sunday roast. Restaurants are now reflecting this, either switching to Sunday lunch or adding more 'unch' dishes to their brunch menus.
This week I'm taking you for Sunday lunch, not to a treetop or a container, but to a really good neighbourhood restaurant in a shopping centre – a stone's throw away from the Ballyogan Road.
No Bum Seats
Located in Leopardstown Shopping Centre, Sivad doesn't have the benefit of sea views or mountain valleys, but don't let that bother you. It has ample free parking, it's beside the Luas track, has a smart exterior, and once through the doors is a haven of comfort, good food and service. It is in fact, the only restaurant I've ever been in that I've actually chosen to sit in the middle of the room, because there are no bad seats in Sivad, the restaurant is made up of plush banquettes and booths throughout.
Although they have long experience in the food industry, it's the relatively new venture of the Davis family – Frank, Dympna and their son Graham, with the Head Chef being Edd Raethorne.
French Dressing
On our visit, Sunday lunch starters (€5-€9) included mushroom risotto (also available as a main) with pickled walnuts, asparagus, aged Parmesan and dried olives, or hot & sticky chicken wings with Bellingham blue cheese. Bayveen kicked off with tempura tiger prawns (€9), fine chunky numbers, enhanced with fennel, asparagus, rhubarb, rice wine, and a sweet chilli dressing. Wicklow bawn brie (€7.50) for me was in the form of a long rectangular tarte tatin incorporating red onion compote and golden raisins and transported me straight to France. Beautifully presented with rocket, floral tweaks and sesame seeds, it was delicious.
Mains (€13.50-€18) included roast rib of Irish Hereford beef or roast turkey and ham, as well as fish & chips or a cornfed supreme of chicken. Their chargrill section also had rib-eye and sirloin steaks (€19-€24) with 'the works'. Roasted loin of hake (€16) for Bayveen, was topped with lemon and basil butter, baby fennel, carrot, navets, roast tomato and lemon fondue, all of which she loved. I couldn't resist roast 'five spice' Silver Hill duck breast (€18), as again it had been given a French twist with scorched figs, plum and anise, as well as caramelised sweet potato. Crisp and dark on the outside, the meat was tender and rich, and again beautifully presented with colour and style.
Desserts (€5-€7) were to die for. Bayveen had a beautiful glassful of chocolate orange cremeaux (€7), caramelised brioche, yoghurt sorbet, and hazelnut praline, while I had a very pretty and lovely white chocolate and butterscotch pannacotta presentation (€6) with amaretti crumble and coffee creme.
Paying For The Pleasure
Service was absolutely professional and friendly and, with a bottle of light and fruity Portuguese Alandra Branco 2015 (€23), our bill came to €96.50. Open Monday-Sunday from 12.00 noon, since our visit, Sivad have introduced a 2/3-course Sunday lunch menu (€18/€22) running alongside their a la carte menu. They also have an early bird 2/3-course menu €18/€22 and an excellent all day kids menu with mains €6/€7.
Sivad Grill & Wine Bar
3A Leopardstown Shopping Centre,
Leopardstown, Dublin 18
Tel: (01) 905-9471
sivadsteakandgrill.ie
lucindaosullivan.com
First Published In The Sunday Independent