Restaurant Review - Kernel Bar & Kitchen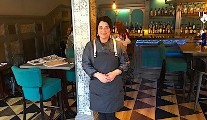 Wednesday 07 June 2017
With 17 years under her belt as Head Chef at Zuni in Kilkenny, Maria Raftery has a fine culinary reputation and following in the city. However, most chefs dream of having their own restaurant, and, when the opportunity arose to do so, Raftery ran with it, opening Kernel Bar & Kitchen, doing all day food, near Kilkenny's famous St. Canice's Cathedral.
It's located in the Kilkenny Inn, recently taken over by Ray 'Wineport' Byrne in partnership with Eoin 'Brooklodge' Doyle, who are looking to capitalize on Kilkenny's arts vibe and popularity as a weekend destination, and see the 3 Star hotel having potential as a great value boutique hotel in an up and coming part of the Marble City.
Read all about it!
We called in for lunch on the way up from Cork and, although the street is narrow, we could park virtually outside the door, and there's also a large car park behind the hotel. The vibe is retro urban funky with dangling lightbulbs, and walls papered with old Independent newspapers from the 1930s. It was rather amusing to see a large ad sporting "four charming creations" from McBirney's fashion salon on Aston's Quay, as well "Startling News from India" recounting Mahatma Gandhi's arrest. I could have spent the day climbing up the walls reading the papers – but instead I snapped away with the iPhone!
An all day 'Brunch & Bites' menu of contemporary casual food was good value. Sandwiches (€9) included a 'Tricolour' number with halloumi, avocado, tomato and basil, and grilled chicken with tomato and brown sourdough. Salads were available in small or large sizes (€7.50/€14) and included chilli and lime Toonsbridge halloumi super salad with sugar snap peas, butternut squash, roast barley, quinoa, tomato, fresh mint, dressed leaves and avocado dressing. In addition a lunch time express menu (€14), from daily blackboard specials, offered the option of adding soup, salad, or a glass of wine for €5.50.
Nuts about flavour
We kicked off with a quite perfect 'small' salad (€7.50) of poached pear, served in a chic contemporary blue bowl, with Cashel Blue cheese, candied walnut, beetroot crisps and a piquant dressing, and a deeply intense tomato and basil soup, served with a divine fruit and nut bread, both of which we thoroughly enjoyed, as Johnny Cash was belting out "Help me make it through the night"! Brendan moved on with a cracking succulent Angus beef burger (€14), layered with smoked Gubbeen, and served with pickle slaw and house fries, which he made fast work of. The daily specials (€14) were salmon with sugar snaps, new potatoes, squash, mint raita and lime dressing; or, that which I chose, battered fish and 'squids'– three fine pieces of hake and calamari, tweaked with segments of lemon and orange, and served with sweet chilli sauce and mayo, which I had with an ace super salad with broccoli and beans, instead of the billed chips. Sides – the Kernel bread tin, fries, creme fraiche chilli potatoes, super salad, seasonal veg or pickle slaw were available at €3.70/€4.
We passed on sweet plates (€7.50/€8), even though both apple trifle and lemon meringue mess sounded very attractive, but it was lunchtime after all. Also nice to see was the option of a fresh fruit platter with frozen natural yoghurt.
High Tea for hipsters
From 2pm-6pm, they also do cracking hipster style Afternoon Teas (€25/€30 with or without a glass of Prosecco or a Smithwick's tasting beer). 'High Tea for High Heels' and 'Gentleman's Tea' are each tailored with varying female/blokey orientated elements such as cod croquettes, mini burgers, pork chipolatas, chorizo croquettes, ham hock Scotch eggs, house fries, scone and fruit tartlets. After 6pm the dinner menu kicks in and is 'beefed up' with the addition of an 8oz Irish Angus sirloin with the works (€23), salmon and hake dishes, plus a further choice of small plates and an assiette of desserts to share.
I don't need to bump up Raftery's foodie cred to the people of Kilkenny, they're well aware, but you might like to make a note to pop in – perhaps at next weekend's Cat Laughs Festival. With optional service our bill came to €46.00.
Kernel Bar & Kitchen,
The Kilkenny Inn Hotel,
15-16 Vicar Street, Kilkenny.
Tel: (056) 777-2828
kilkennyinn.com
lucindaosullivan.com
First Published In The Sunday Independent