Restaurant Review - Herbert Room at Cahernane House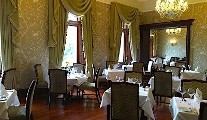 Wednesday 31 May 2017
From the mid 17thC to the early 20thC, Cahernane House, on the edge of Killarney's National Park, was in the hands of the Herbert family, another branch of which had the perhaps better-known Muckross House. In 1877, Henry Herbert rebuilt and renovated Cahernane, adding its magnificent, heavily carved oak staircase, but, having fallen into debt, the house was ultimately sold to hoteliers. It has changed hands a few times but, having been closed for a while, it was recently re-opened by the PREM Group, who operate a number of hotels including Tulfarris Hotel in Co. Wicklow and Cork's Hotel Isaac's.
I hadn't stayed in Cahernane for a while, but I was attracted by the appointment of Paul O'Connor, a chef with a pedigree ranging from Sheen Falls in Kenmare to the Sydney Opera House.
Moving with the times
The bedrooms in the old house were undergoing renovation when we wheeled up midweek, without a reservation. There are apparently big plans for the property in the next couple of years, but we were very happily accommodated in a spacious modern room, in the new wing, with all mod cons – super-sized bed and everything that is expected nowadays.
We took ourselves down to the Cellar Bar, with its big leather clubby armchairs, for a reviving aperitif each of Campari and soda (€9) and a Jameson (€5), after our almost 5-hour drive. Already ensconced, was an American family group on their first visit to Ireland, who couldn't wait to tell us how 'at home' they felt there.
Moving up to the Herbert Room for dinner, my feeling about a fresh foodie focus was confirmed. Elegant and stylish, the renovation team had clearly done a lovely job, in keeping with the period of the house – crystal chandeliers meet polished hardwood floors and contemporary cool wallpaper. Our blissful window table overlooked the lawns and on to the mountains and, as dusk set in, with Pavarotti singing softly, we could see twinkling lights on pristine shrubs.
Foodie compliments
Dinner was €50, included on our very good overnight midweek rate of €189 for two, with breakfast. Beautiful breads and dips were followed quickly by an elegant amuse sporting tuna carpaccio and tartare with elements of yuzu and fennel. Eschewing starters of organic pork rillettes; warm Irish duck breast with Iberico ham, buckwheat and spinach, I chose Castletownbere scallops and crab. Arranged in a ribbon working out from the centre of the bowl, two seared silky molluscs sat on textures of black rice, citrusy yuzu, sesame and watercress, while Sir's divine goat's cheese pannacotta (pictured), was an aromatic truffle treasure, scattered with blobs and dots of purees, interspersed with beet wafers and a dusting of shallot powder to the side.
These were followed by a cracking raspberry sorbet for Sir and a shard of smoked mackerel on paprika risotto and lobster espuma for me.
Beef, lamb, and spiced monkfish tail all featured as mains with various complementing elements. Seabass for me was with cauliflower, smoked ham, shitake, seaweed and dashi and continued the high standards already set, as did cornfed Irish chicken with baby leek, confit garlic, panisse and foie gras sauce,
When presented with amazing sounding desserts, it's just not fair to the pastry chef to moan that you're too full, and it would have been a sin to do so. A superb arrangement of lemon, raspberry and pistachio choux with marshmallow, and a gel and pistachio creme fraiche was everything we expected, as was a board of Wicklow Brie, Durrus, Carrigaline and Gubbeen cheeses, with crackers, celery, nuts and chutneys.
A steal of a deal
We conked out for the night once we hit the bed and, after a great night's sleep, it was no surprise that breakfast the next morning was just as good.
I reckon U.K. critic Jay Rayner, who wrote a searing review recently of his €600 dinner in the 3-Star Michelin holy of holies Le Cinq in Paris recently, would be rolling around the floor if he saw what we'd received for just €248.50, including a bottle of Prince Hessen H Riesling (€34), bottled water (€5.50) and optional service.
Whether you stay the night or not, dinner at this level for €50 is a steal.
Herbert Room
Cahernane House Hotel,
Muckross Road, Killarney.
Tel: (064) 663-1895
cahernane.com
www.lucindaosullivan.com
First Published In The Sunday Independent