Restaurant Review - Old Street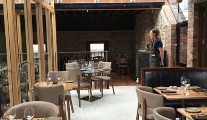 Wednesday 24 May 2017
In with the Old
Malahide in North County Dublin is what Kinsale is to Cork, Adare is to Limerick and Oughterard is to Galway – a very pretty upmarket old-world village, home to the remnants of auld decency and affluent residents who commute daily to the city by DART. In the old days, social life revolved around the genteel practices of cricket, croquet and tennis, but with the boom came buckets of bling, a new marina development, 'celebrities', day trippers, and an abundance of restaurants and glam boutiques catering for this growing population. Things settled somewhat with the downturn and not a lot has opened until now.
Grand re-designs
There's been huge excitement and anticipation for the arrival of Old Street Restaurant, in the heart of the village, which has breathed new life into the dining scene. The brainchild of local couple Mark and Adriana Fitzpatrick, they've set out their stall with style and panache, taking two of the oldest buildings and cleverly blending in a 3-storey glass and brick extension.
With blue skies and blue seas, Malahide was at its glittering best when I arrived in their first week. The ground level has spacious bars, and a dining area, which I can see being a real summertime hub. They've also created a dramatic subterranean level cum wine cellar, to cater for private dining. We moved to the top floor, which has a Scandi feel with brick walls, and timber struts and beams framing a glass ceiling that allows the sunny blue skies to shine through, but which will be just as dramatic on dark crisp winter starry starry nights.
New-wave nuance
As much thought has gone into the new-wave food as the design, you won't find any short order cooks knocking out the grub here! Fergus Caffrey is Head Chef with Chris Fullam as Sous, and between them these guys have rattled some seriously salubrious pots and pans in Chapter One, The Greenhouse, and Amuse. A half dozen a la carte starters (€8-€15) included Pacific Oysters with a sambal; beef tartare had chipotle pepper, shimeji mushroom, and avocado with sourdough, while pork croquette was paired with burnt apple puree, celeriac remoulade and mustard dressing. We were in time for the early evening/lunch menu with 2/3 courses at €24/€29, so my guest went with that, particularly as the dishes he fancied were on it anyway. Chicken liver parfait was in the form of a silky swirling pool with pear and raisin chutney with sourdough, while a crisp presentation of seared scallops (€15), highlighted with textures and avours of black garlic gel, truffle mayo, apple and celery, was summer on a plate.
The main event
Moving on to the mains, my guest's chicken, precision cut in shards, was resting on polenta, with black garlic gel, and sprouting chargrilled broccoli with almonds, which he loved. ALC mains (€18-€32)included an organic beef rib-eye with red onion marmalade, Bearnaise and fries; Cod had a mussel veloute, hip Hispi cabbage, lovage and smoked potato; while herb gnocchi was with mushroom caramel, asparagus and aged Parmesan. It was hard to decide, but I loved my tranches of really pink and tender rump of Comeragh Mountain lamb (€28, pictured), artfully interspersed with elements of 'sheep yoghurt', wild garlic, wafers of baby turnip, pea and Middle Eastern za'atar. Side orders were €4 and we shared a mixed leaf salad with peppercorn dressing and aged Parmesan.
For dessert, my guest had a dramatic arrangement of colours and textures, from rich and dark to golden caramel shades to ivory, by way of blobs, foam, shards and snow, involving hazelnut and dark chocolate ganache, caramel, praline, milk sorbet, and smoked milk foam. Meanwhile, I finished with a toothsome selection of 3 cheeses (€10) – 5 (€14) – Milleens, Young Buck Blue, Banagher Bold – supported by chutney and Scandi crispbreads.
There's an extensive wine list with plenty for the big hitters, but we loved our more modest fresh and fruity Austrian, Winzer Krems, Von Den Terrassen Riesling 2015 (€32), bringing our bill with a double espresso (€2.90) and service to €132.90.
Old Street Restaurant,
Old Street,
Malahide,
Co. Dublin.
Tel: (01) 845-5614
oldstreet.ie
lucindaosullivan.com
First Published In The Sunday Independent