Restaurant Review - Nightmarket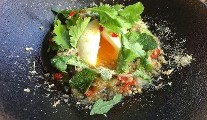 Wednesday 17 May 2017
During Celtic Tiger years, we were awash with Thai restaurants and takeaways. The trouble was, most of the food was unadulterated rubbish. A man in England emailed me at the time warning that we would soon have aircraft hanger size kitchens knocking out 'Thai' food as it was cheap to produce. He was right, chains of Thai restaurants popped up everywhere. Buckets of red and green curries, the equivalent of the old style runny yellow Chinese curry, were lapped up out of plastic containers after a night out, or were served up with oceans of vinegary Prosecco at tables around the country in the name of exotica and glamour. None of it bore any resemblance to the beauty and wonderful food of Thailand, apart from a few exceptions, and these are the ones that have survived 'til today, including Matthew Farrell's superb Diep Restaurant, where Conor Sexton worked until 2008, at which point he left to open Koh Restaurant & Bar on the Millennium Walkway with business partner Conor Kilkenny.
Curtain up!
The partnership has now split, with Conor Kilkenny staying in Koh, while Conor Sexton has, along with his partner Jutarat Suwankeeree, just opened the new Nightmarket restaurant in Ranelagh, in the former An Bhialann and previously Eatery 120, where friend Paul and I were delighted to be first through the door on opening night. A brilliant name, Nightmarket is not inspired by the hot shot du jour, Tom Hiddleston's Night Manager, but from the nightmarkets in Chiang Mai and Hua Hin where Jutarat, aka 'R' grew up. Her grandparents had a food stall in Chiang Mai, so before school she spent many a morning going to buy raw produce from the local markets, taking it back home to cook with her grandparents, then help sell the finished product on the stall. This led later to a career in the hospitality industry where she worked in the Shangri La Hotel in Bangkok, before coming to Ireland 16 years ago and subsequently joining Koh as a duty manager. So, the food offers the rustic flavours of Chiang Mai, combined with the spicy seafood influences of the coastal town of Hua Hin, served in the traditional sharing way, balancing elements of spicy, sweet, sour, bitter, salty. The downstairs bar area was open on the first night, while the larger 50-seater upstairs room was still being worked on. There's also a fantastic tiled al fresco area, like being in a luxurious metro station in wartime Paris – totally romantic.
First bite
Nibbling on pork scratchings with green relish (€3), we kicked off with a trio of ace Kap Klaem – smaller dishes (€3-€9). Miam Kham (€7) were cha plu leaves topped with crunchy textures of ginger, shallots, chilli, dried shrimps, lime, peanut, roast coconut, palm sugar, to which you add a pungent hot dried shrimp sauce, roll up and eat in your fingers. Laab Moo Tod (€6) were the perfect foil, being hot crispy and soft balls of pork, while Yum Makeua Yao (€9) was a divine grilled aubergine salad involving dried shrimp floss, chilli, mint, fish sauce, lime, topped with a soft boiled egg.
All fired up
Mains (€16-€24) had red, green, yellow and Massaman curries plus phad or wok stir fries, as well as Aharn Talay - seafood specials. Thai afficionado, Paul, enthused over Phad Kaproa Nuea (€18), rich and intense stir-fried minced beef with Thai basil leaves, chilli and garlic, topped off with a crispy fried egg. Larb Ped Esan (€16) salad, for me, had crispy leaves holding a melange of delicious spicy duck breast and offal (I didn't ask), with roasted rice, chilli, shallots, galangal, kaffir lime leaves, fish sauce and lime juice. 'R' had enquired how we were with chillis. Bring it on, we'd challenged boastfully, but I was soon on fire and loving every rising degree – my mind swept back to the first time I had Indonesian food in Amsterdam, as Conor Sexton dashed to our rescue with two glasses of pineapple juice.
We finished off sharing a cooling mango and lychee cheesecake (€6). They've great cocktails, sherries, artisan and Asian beers and with a Domaine de Castelnau Viognier 2015 (€26.50) our bill with optional service came to €101.50.
Beat a path...
Nightmarket,
120 Ranelagh, Dublin 6.
Tel: (01) 538-5200 nightmarket.ie
lucindaosullivan.com
First Published In The Sunday Independent