Our Latest Great Place To Eat - Button & Spoon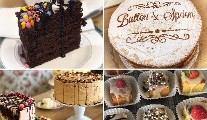 Thursday 11 May 2017
"Why would people drive out here?" Sir persisted, as I patiently explained, people will go anywhere if the food is good, plus there's the massive summertime biz in the Rosslare/Kilmore Quay area. "Remember that place we had to drive through a field to get to?" In fact, Button & Spoon has proved so popular that it is also Wexford Town's newest eatery having opened in the former Bean n' Berry premises on Church Lane.
Bridgetown however was like a step back in time, with Button & Spoon being located in what was the old village shop believed to have been operation since 1750. Next door is Red Books, and across the street, The Hidden Gem gift shop, as well as the dinky looking Bridie's shop and bar, and The Bargy Bar. Inside is as pretty as picture, patterned china plates, comfortable seating, and a myriad of luscious cakes on display. The lunch menu was excellent with some great options available like Duncannon smokehouse chowder combining fresh and smoked fish in a creamy dill and fennel flavoured soup; not to mention some tasty sounding Kilmore quay crab cakes in a light salad with coriander, lime and a tropical compote. We kicked off sharing a flavoursome chicken liver pate.
They offer a selection of warm and cold salads, from a gluten-free spicy Caribbean number, with strips of piri piri chicken served on a bed of baby salad leaves with sweet roasted peppers and a Caribbean sauce, to a black pudding, smoked bacon and egg salad with sunkissed tomatoes and crispy croutons. Their 'Rolls' section, all of which were accompanied by rosemary and sea salt fries or a side salad, featured lunchtime staples like ham and cheese and the BLT, as well a spicy chicken roll and a chargrilled veg & halloumi offering with a lemon drizzle. We had driven a fair distance so I was ready for their "Signature Mains'. On offer were some delicious sounding tempura prawns deep fried and served on a fresh salad with a citrus mayonnaise; a spicy vegetable dahl curry served with steamed basmati rice and parsnip crisps; as well as buttermilk chicken served with a spicy Caribbean sauce. I went for a trio of great big fluffy 'tennis ball' fishcakes complete with fries and sweet chilli sauce, and was delighted with the bounty I received, whilst Sir had the special of the day, a hearty and tasty beef and onion pie washed down with a glass of red.