Restaurant Review - Duende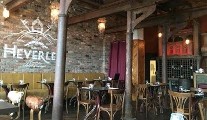 Wednesday 10 May 2017
I bet if they were doing a carvery here, or even a 2-course lunch special, they'd be packed." I remarked to Sir. We were the only two in the dining area of Duende, set in a shopping centre on the outskirts of Drogheda. It's a very large, contemporary, rustic-rancheros style gastrobar, with all sorts of artefacts and a dramatic Cubist wall mural. It was a Friday lunchtime, when you might expect a modicum of weekend jubilation, but, apart from a half dozen people in the bar area, there was just us and what appeared to be 'the boss', working on his laptop at the end of a banquette at right angles to us. He had got up to greet us nicely but it can feel a tad awkward for the customer to feel the boss is surveying the scene, it sort of puts a damper on proceedings and it's not a practice I like.
Tasty tweets
With every ambitious chef in the world lashing up food pictures on social media, not to mention @POTUS both riling and ruling the world on Twitter from the Oval Office, I'd been attracted by cracking contemporary food pics posted by a Duende chef. The pictures had portrayed a brilliant looking 7-course tasting menu at €29.95, which apparently had run on some preceding Wednesday nights. Of course, I didn't expect an elaborate evening tasting menu at lunchtime, but when we were presented with the all day a la carte, we found ourselves struggling a bit to find the right lunchtime balance. We began to think, that this might be why we were the only diners, particularly as there was nothing wrong at all with either the food or service we experienced.
Anyway, a duende is apparently a fairy or goblin from Iberian or Latin American culture, so tapas featured, as did very broad Spanish in influences on the menu. However, the tapas selection (€3.50/€4.90) was pretty uninspiring and safe, being of the olives, croquetas, chicken skewer, bruschetta, chorizo or hummus variety. So much had gone into the decor here but there was just no fire in the belly when it came to showcasing Spanish food. I longed to see boquerones, or pulpa a la Gallega, indeed anything that showed a bit of cojones! The mains (€10.90-€21) on the other hand, which included a rib-eye and sirloin steak, a beefburger, and Clogherhead fish and chips at €15.90, all seemed too heavy for lunch nowadays.
Take the good with the bland
We turned our attention then to the starters (€5.50- €9), which sported chicken wings, Caeser salad, pate, a citrus cured salmon salad and calamares. Brendan kicked off with a goat's cheese salad (€6.50) with walnuts and red onion, well presented, plentiful and good, while I had gambas pil pil (€9), a terracotta dish holding seven chunky tiger prawns in piping hot oil with good bread on the side.
Brendan followed up with the daily special, a very pleasant focaccia steak sandwich (€13.90) with a portion of good chips on the side, while I, looking for something lighter, finally settled on pan-fried fillet of hake, well cooked, on top of a chorizo, squid, sun-dried tomato and chickpea piperade of peppers, onions and tomato (€14.50). It was nicely presented in a modern blue bowl but the tiny bits of squid were minimal and I would have preferred it to have more confidence by way of flavour. We looked at the dessert selection, more out of interest than desire, which our very charming waitperson presented on a blackboard. The selection included raspberry pannacotta, chocolate brownie with cherry ice-cream, caramel custard, or a selection of ice-cream, but we passed.
Everything we had was good, the service delightful, but I'd really like to have been there for those Wednesday special menus. Our bill, with a pint of Guinness (€4.20), a coke (€2.50) and optional service, came to €55.60, which might have been fine for dinner but seemed a tad expensive for a casual weekday lunch. These days, fifty quid gets you and a friend 2-courses at some of Dublin's top restaurants.
As it transpired, the clearly talented 'tweeting chef ' has departed to focus on his own style of food, but nonetheless perhaps they might consider putting some further initiative and creative thinking into their lunchtime offerings.
Duende Gastro Bar
Southgate Shopping Centre,
Dublin Road,
Drogheda.
Co. Louth.
Tel: (041) 981-8725
See facebook.com
lucindaosullivan.com
First Published In The Sunday Independent