Restaurant Review - Dooks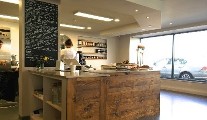 Wednesday 03 May 2017
Finding Dooks was our mission, as we rolled along country roads past lush farmland and an unusual blue barn. Not the Dooks in Co. Kerry but the new Dooks Fine Foods by Richard Gleeson in Fethard, Co. Tipperary. We were Cork bound and had turned off the M8 in search of a good lunch from this chef, who moved out of the advertising biz in 2008 to train in Ballymaloe. He subsequently worked in the UK for the revered Ottolenghi and much lauded Skye Gyngell at Petersham Nurseries. He returned to Ireland four years ago, working as a senior tutor at Lynda Booth's Dublin Cookery school, while also looking for a premises to set up his own establishment – a difficult thing to do in the capital with so many of the industry 'big boys' having multiple restaurants in competition.
The Ballroom of Romance
We arrived, suddenly, at a T-junction, and we were quite amazed at the cool modern Dooks building to our right, a beacon of city modernity in a town that is otherwise steeped in a more classic Irish country charm. Straight ahead at the top of the junction, just across the road from Dooks, was the very distinctive white Fethard Ballroom with its castellated front, which must, in its time, have been the hot spot of the day. It was a startling contrast of two eras.
Originally from Tipp, Gleeson's opportunity to invest in his own business came up in Fethard, with Coolmore Stud as landlords. Coolmore are currently restoring the iconic Cashel Palace Hotel, as well as Mikey Ryan's pub, which is due to open in the Summer. Both projects are being led by Trish Conroy, who has exquisite taste.
Gleeson describes Dooks as a deli type restaurant, a big bright space with a totally open kitchen and large counter showcasing rare roast beef, chicken and salmon, delicious salads, pastries, cakes, and breads. The furnishing are beautiful, solid rustic wooden tables, a large communal table, and contemporary classical style chairs.
Blue-ribbon food
Prices are very good and, as well as cold food, they also do a couple of hot dishes each day. I kicked off with a large bowl of roasted shallot and squash soup (€5) with herb oil, toasted sunflower seeds and wonderful brown bread. Sir had cracking lamb meatballs (€11), a brace of whoppers with sage and parmesan, served with flat bread, beetroot slaw and mint yoghurt. I had delicious fluffy salmon cakes (€12) with dill and parsley, a quenelle of salmon tartare, horseradish cream, rocket and pickled celeriac. With these we shared a couple of fab salads (2 for €8) – roast potato chunks, cavelo nero and tarragon aioli, and a beetroot salad (good for your blood pressure!) involving roasted red and pickled candied beets, homemade ricotta, toasted hazelnuts and chervil. I moved up to the counter then to salivate over the luscious 'sweets' priced from just €2.50-€4. Flourless chocolate cake seemed to be popular with fellow diners, as did clementine and blood orange syrup cake, and apple and sultana cake with apple syrup and cream-cheese icing. I resisted, while Sir had an Americano (€2.80).
The whole thing here is the wonderful homespun freshness of Gleeson's food. I remarked to Sir, that his food reminded me of the fulsome classical Cordon Bleu school of food with contemporary updates, but lovely well-cooked clean cut food. His inspiration, he says, was the hospitality and food of his own childhood home and mother's kitchen.
Blending in
It's horsey territory and people seemed to know one another. I naively thought we'd melted in with the crowd, until a former politician approached with a big welcoming smile saying "I know your face"!. If my cover hadn't already been blown, it was certainly gone now.
Dooks currently serves breakfast from 7.30am-12.00pm, switching then to lunch until 4pm, but evening service is coming, as well as a catering service and evening cookery demonstrations. Our bill with optional service came to €42.80.
We set off back to the M8, well fortified, and thinking, as the Michelin Guide might say 'table excellente, merite un detour'.
Dooks Fine Foods,
Kerry Street,
Fethard,
Co. Tipperary.
Tel: (052) 613-0828
dooksfinefoods.ie
lucindaosullivan.com
First Published In The Sunday Independent