Restaurant Review - Rachel's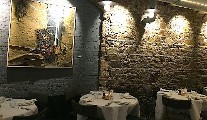 Wednesday 26 April 2017
Rachel Allen's first standalone restaurant is an impressive operation. Why wouldn't it be you might say? She is perhaps one of Ireland's foremost food writers and chefs, but being in the public eye can be a double-edged sword. With expectations so high, opening a new restaurant must have been a stressful time for her and her husband, Isaac. While she is a colleague in LIFE, our paths had never crossed, but, I can say honestly, Rachel did not disappoint. She has delivered in spades, giving Cork city a fully-fledged contemporary, 'grown up' and sophisticated restaurant. It has international influences, but in a style that is distinctly home grown, local and seasonal, in every sense.
Setting the table
It's a big space; broken into different areas, including an amazing 'Hernando's Hideaway' style Piano Bar. There's lots of urban grey meeting stonewalls and air conditioning vents, but there's a crisp formality here with immaculately attired staff, sparkling white napery, glistening flatware, artisan style tableware and Kerry tweed seating. Adorning the principal wall is the most enormous pitchfork sculpture by artist Patrick O'Reilly. It is absolutely inspired in this setting, in that it is a constant reminder of the farm to fork ethos of the entire Allen family at Ballymaloe.
From a sassy selection of cocktails (€12), we were treated, along with everyone else on the first night, to a champagne saucer holding a vibrant green blend of Jameson, sugar, lime and basil, topped up with Orchard Thieves Cider.
Restaurants in Dublin are opening apace, but all frantically seeking a different gimmick. One week it's Nordic, next week it's the furthest reaches of South East Asia, but will they stand the test of time as the social media crowd rush on to the next novelty. In Cork, arrivals in recent years have been of the casual fast and street food variety, which is why it's so important that high-end restaurants also come to the city.
Classy cuisine
Rachel and Isaac have gone with a classy, classical menu, with Ballymaloe trained Anne Zagar as Head Chef, and you know that in 25 years time, Rachel's will have become a Cork institution. Seafood comes from Ballycotton, pork is raised by Darren Allen in Shanagarry, and chickens are reared by Robert Fitzsimons in East Ferry. You can push out the boat here with 30g of caviar at €110 or have a trio of native oysters at €9. Ortiz sardines, toast and aioli are €9.50, while a wood-fired oven produces terrific flatbreads with slow cooked lamb or Billy Casey's organic smoked salmon at €13.50.
Starters (€7-€12.50) included Ballycotton cockle & mussel soup, and roast butternut squash and Buffalo mozzarella salad. Brendan's fine plate of chunky crunchy sesame calamari (€12) was contrasted with Scandi style cucumber pickle, a stalwart of Ballymaloe, and wild garlic aioli. I had the most delicious Prosciutto di San Daniele (€12.50) sprinkled and drizzled with crumbled Ardsallagh goat cheese, onion confiture, toasted almonds, rocket and sweet syrupy Vino Cotto.
Mains (€20-€34) included smoked Gubbeen and spring cabbage risotto; dry aged sirloin with Bearnaise; free range pork belly with braised fennel and salsa verde. Brendan's tender rack of lamb (€28) had a Greco-Turkish twist of smoked baba ganoush and tzatziki, while I had the most perfect whole roast Dover Sole (pictured) with caper and lemon butter (€34). All main courses come with skinny fries, creamy herb potatoes, seasonal garden vegetables, plus a great big bowl of organic green leaves.
There's even, joy of joys, a classic dessert trolley, but, as it was the first night, diners were all treated to a trio of delicious desserts – chocolate tart, poached rhubarb and ice-cream with toasted hazelnuts.
Finishing touches
The wine list is extensive and innovative, and we were enticed by a delicious Villa Huesgen Weissburgunder Mosel 2013 (€47) bringing our bill, with coffee (€3.20), and optional service, to €156.70.
There was a palpable frizzon of excitement and a lavish helpings of goodwill everywhere, from taxi drivers to the staff in the River Lee Hotel, to two gents out walking their dog – "a new restaurant for Cork is great". And it is.
Rachel's
28 Washington Street,
Cork.
Tel: (021) 427-4189
rachels.ie
lucindaosullivan.com
First Published in the Sunday Independent