Restaurant Review - Guilbaud's Reborn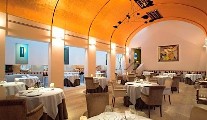 Wednesday 19 April 2017
I'm not one of the ladies-who-lunch brigade, I simply don't have time for more than a quick bite in my hand. But then, lunch in Ireland's only two-star Michelin restaurant is a horse of a different colour, and I did have to go and investigate its new decor, following its closure for a few weeks during the renovations.
It's long been recognised that the best way to try very expensive posh restaurants is by having lunch. You get all the benefits of the surroundings and service, along with sublime food, at a fraction of the cost of the dinner menu. You may not get to try the blue lobster, red king crab, the pan-roasted foie gras, or lacquered Challans duck at the lunchtime prices, but the same superb skill and presentation is evident on the plate whether it's a simple hake or ham.
A star is born
The older generation used talk to of the legendary Jammet's restaurant, The Red Bank, the Russell and Hibernian hotels. But, there weren't very many high-end restaurants here when Patrick Guilbaud was enticed to Ireland in 1981, from his native France, to open his eponymous restaurant in James Place East. Chef Guillaume Lebrun, was, and still is, at the helm in the kitchen, and they were joined in1986 by the urbane Stephane Robin as front of house. Some years later RPG moved to its current location in Upper Merrion Street where it is today.
The anterooms and bar are art deco style; colourful with a more relaxed feel than before, with a daring sparkly grey carpet, but the main focus of the revamp is the stunning rose-gold high concave ceiling which brings the eye up and is a distinct reflection of the alluring colours of Marrakech. It changes with the light at different times of the day, Stephane told us, telling us that it was crafted with gold leaf.
Exquisite eating
The 2/3 course table d'hote lunch at €50/€60 offered a trio each of starters and mains, a duo of desserts or cheese, plus tea or coffee and petit fours. We kicked off with an amuse of Perigord duck foie gras cream, stuffed with pear and chestnut espuma, which was a mouthful of heavenly nuances, as we said 'yes' to yet another delicious mini baguette and butter.
Paul followed up with a lightly aromatic Castletownbere scallop soup with 'mellow' spices sporting south-east Asian influences, while I, loving French food, had a superb fine Cevenne onion tart. The onions at the base topped with a mere whisper of crisp 'pastry' under a fluff of leaves, revealing the shreds of grated Vacche Rosse Parmesan and truffle vinaigrette.
Eschewing seared calf 's liver, smoked bacon colcannon and sauce diable, Paul had roast free-range chicken, the skin of which was crisped with lemon, herbs and bergamot, resting on a seared onion half with cherry tomatoes. My succulent spiced roast monkfish was colourful, reflecting the vibrant reds and turmeric yellows of Sri Lanka; laced with young spinach it was also perfection.
With these, we also received a dish of silky, silky mash potato. Seeing the enormous trolley of Irish and French cheeses wheel up to a neighbouring table, I thought for a minute, I should have had that, but then I wouldn't have experienced the sublime sweet-sour flavours and colours of the blood orange vacherin with a fromage blanc sorbet that graced the table in front of me. Such a joy. Paul too was in raptures with his Guanaja chocolate with honeycomb and milk ice cream, an experience of coffee, honey, and cream colours and textures.
We were straight into more sweet treats by way of petit fours—stunning pewter coloured liquorice macarons, white chocolate and raspberry tartlets, and pistachio financiers.
The final tally
As one might expect of a two-star Michelin restaurant they have wines ranging up to €4,500,but there's plenty too for mere mortals, from 'La Petite Cave', with the entry-level being €50, which is where we stayed with a delicious Domaine Meyer- Fonne Pinot Blanc, VieillesVignes.
Service was as one might expect, ever attentive but unobtrusive. Our bill with bottled water (€6) and optional service came to €196.00.
Restaurant Patrick Guilbaud is an elegant experience and a true reflection of how fine dining should be.
Restaurant Patrick Guilbaud,
21 Upper Merrion Street,
Dublin 2.
Tel: (01) 6764192
restaurantpatrickguilbaud.ie
lucindaosullivan.com
First Published In The Sunday Independent