Restaurant Review - Cask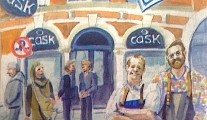 Wednesday 05 April 2017
Dublin is buzzing with new restaurants opening every day, Galway has a thriving foodie scene, however, apart from a fun hipster street food scene, not a lot had been happening with restaurants in Cork. It needs 'fresh meat', prepared to push and raise the profile of the industry. Bryan McCarthy, a native of Glandore, who took over as Head Chef and transformed the food at Greene's Restaurant at Hotel Isaacs a couple of years ago, seems to be the one who can fill this role in Cork. So, with considerable interest, I headed down on the first night of the Cask Bar, the hotels new stand alone casual dining option, uniquely set facing out onto MacCurtain Street, but within the courtyard entrance with its amazing waterfall.
The splendiferous Victorian arched red-bricked buildings of Hotel Isaacs are well known as the former home of Nat Ross, who have been doing furniture removals for nigh on 200 years. They once housed horses and great big carts, moving on then to massive vans – so high ceilings and space were a given.
Now, Cask is basically in three sections with stunning bars to the front and rear, with a romantic, almost train like, carriage linking in the middle, while French doors open out onto the courtyard for al fresco dining. The decor is a great melange of contemporary urban with elaborate retro upscaled bars and a whiff of the prohibition era.
It's all about cocktails, small dishes and sharing plates here, with Cask manager and cocktail master, Andy Ferreira, and Bryan McCarthy, bringing together a unique take on local and seasonal products both in the glass and on the plate with the menus changing every eight weeks.
Brendan kicked off with a Katty Barry (€10), named after a well known Cork character, a blend of gorse flower infused Bombay, woodruff, Irish pears and Prosecco, while I had an Annie Edson Taylor (€6.50), who, in 1901, was the first woman to survive a trip over Niagara Falls in a barrel. It was non-alcoholic, but had a a knock your socks off sweet sharp combo of Kilbrack apple juice, cardamom syrup, basil, soda, apple and fennel shrub. Terrific.
Although listed as 'Light', 'More', 'A Little More' and sharing plates, portions were a good size. We stuck with the lighter end of things. Food arrives as it is ready, and first up was delicious salt cod brandade (€5.90) with pickled dillisk, scurvy grass and crispy toasts, and a whopping Blackwater Cask Juniper Gin, prawn cocktail (€14.90) with crisp baby gem and smoked tomato. Next up were Gubbeen hot dog sliders (€5.90) and pork belly bao buns (€6.90). Bao buns are the real hot shots of the moment, and if you haven't had them, they're a mouthwatering pillowy soft steamed Chinese/Korean bun. The sliders had the 'dog' wrapped in seaweed salad, balsamic onions and Cotton Ball Beer mustard. Delish, but I preferred the meltingly soft pork belly with carrot and sesame kimchi, smathered with a tonkatsu glaze.
There's lots of variety on the menu but a real stunner was my dessert, which drew an audience of American tourists fascinated by its billowing clouds. Cooked at the table, it's the modern answer to the classic crepes Suzette, with liquid nitrogen being used to freeze blackcurrant ice-crystals (€9.50) which were put on top of a citrusy warm yuzu custard, topped with sorrel. Apart from showtime at the table, it's the best thing I've had in ages – loved it.
With a glass of Il Bucco Montepulciano (€7) for Brendan, and service, our bill came to €74.10. Can't wait to go back!
Cask Bar,
48 MacCurtain Street,
Cork.
Tel: (021) 455-2279
hotelisaacscork.com
lucindaosullivan.com
First Published In The Sunday Independent