Restaurant Review - The Bay Tree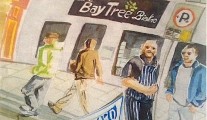 Wednesday 29 March 2017
No sooner has the clock chimed midnight on the last day of January each year than the amuigh faon speir feeling grips me. And so, one fresh spring Wednesday morning, having gulped his porridge, Sir found himself heading for Waterford!
The new Bay Tree Restaurant on Merchant's Quay was the object of my attention. Located
at the bridge end of the quay, it's the venture of Chef Patron Keith Boyle and his wife Carmel. Boyle is not new to Waterford, having been at the Athenaeum Hotel, before opening over a pub in nearby Ballybricken. He has now taken a leap of faith with three floors of a vast property – a little bar at ground level, the first floor oak beamed restaurant, and above that a planned art gallery. He's ambitious when it comes to his cuisine too, intent on bringing a contemporary fine dining element to the city and, fromour experience, he is certainly on the right track. The operative menu that night was a 2/3 course 'pre-dinner menu' €23/€28 (all evening Tuesday-Thursday, 5pm- 6.30pm Friday and Saturday); but he's also added a new format of 3-courses at €35; and 5-courses at €45, both menus to include mid- course treats.
Divine black olive and 3-seed breads arrived with cracked black pepper and seasalt, sundried tomato and smokey bacon butters. These were soon followed by canapes of tempura scallop on purple potato crisps, and pork and apple on parsnip crisps. I immediately perked up when I saw he hadn't used the prized, yet ubiquitous, scallop itself, but the much more interesting roe, which is generally just thrown away.
With the ensuing starters, the small touches made all the difference. Brendan's silky chicken liver and smoked pancetta parfait was piped in three rosettes, interspersed with caramelised red onion and pickled courgette. Black Tiger prawns pil pil style for me were also delicious in a little pan with mango, pineapple, coriander and focaccia.
Mains had haddock with a 3-bean bouillabaisse, Serrano, tempura mussels and poached egg; while chicken was paired with chorizo, goat's cheese, and sundried tomatoes. Brendan's cracking 8-oz Hereford sirloin (€4 supp) was on a chestnut mushroom and caramelised onion pie, while I had a perfectly pitched Black Sole on the bone (€7 supp), with a mussel and shallot sauce and delicious gratin potatoes.
To finish, we shared a selection of homemade ice-creams in a brandy snap basket, which were followed by homemade petits four – chocolate, jelly and fudge! With a delicious round fruity bottle of Crego e Monaguillo Godello Monterrei 2015 (€27), a grape I rather like, and bottled water (€4.50), our bill, with exceptional service, came to €103.50. "We're not at the best end of the quay", Keith Boyle, remarked on departure. But I think his being there will attract other good eateries and cafes to what is a great waterfront location.
We strolled back along the quay to the Granville Hotel with its majestic canopy. It's a bastion of old world charm, with friendly attentive staff and very comfortable accommodation. Breakfast in their elegant restaurant was superb, with a tremendous display of ham, cheese, fruits, fresh strawberry- topped granola yoghurt pots, nuts, honeys, scones, gluten-free sundried tomato and banana breads. Sir was persuaded by the inestimable Mary to have a drop of Muldoon whiskey on his porridge, which he followed up with a full Irish, while I had delicious eggs Royale on Waterford blaa. B & B was €100.00. Ace all round.
The Bay Tree Bistro,
16 Merchants Quay,
Waterford.
Tel: (051) 858-517
thebaytreebistro.com
lucindaosullivan.com
First Published In The Sunday Independent