Restaurant Review - Anocht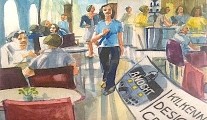 Wednesday 15 March 2017
March showers may bring April flowers but this month really kicks off the tourism season with an influx of visitors, particularly from Trumpland, for St. Patrick's Day. Forgetting shamrocks, leprechauns and waving flags, the food they now experience on their Irish travels greatly differs from that of twenty years ago. Back then, they went home 'loving' the 'friendly' people and the scenery, but weren't enamoured of the deep fried offerings and poor versions of Irish stew.
Kilkenny, with its magnificent Castle, St Canice's Cathedral, Rothe House, and Black Abbey,
is on many itineraries. It's also the root of modern Irish craft, stemming from the Kilkenny Design Workshops, which, in the 1960s, threw a whole new light on Irish design. However, Kilkenny is now also a foodie destination with a wealth of artisan producers, the best Italian I've ever been in, Ristorante Rinuccini, two Michelin starred restaurants, Campagne, and the Lady Helen in Thomastown.
Also quite exceptional is the restaurant in the Kilkenny Design Centre. Set in a 1760s grain store with its original oak beams, Kathleen Moran has created a bastion of top quality casual food catering, 7 days a week, for tourists and locals alike, and which from Thursday to Saturday evenings morphs into the atmospheric contemporary fine dining Anocht. Head Chef, Rory Nolan, is ex Chapter One and Campagne, and it's clear from our experience that he's both driven and inspired. He works closely with local food producers and any of the seven starters (€6.75-€9.50) appealed to us. The devil is in the detail, they say, and breads with herb butters were superb. Starters included Young Buck Blue cheese salad with poached William pear, Mileeven truffle honey, organic leaf and sticky walnuts, while citrus cured organic salmon had Japanese influences with pickled kohlrabi, salmon tartare, black sesame paste, avocado puree, radish and wasabi. Brendan's homemade black pudding (€8), topped with a perfect poached egg, on salt baked celery root, was napped with a divine hollandaise and peashoots. I had prawn and crabmeat (€8.50) in a glass jar with a perfectly dressed salad of radish and mixed leaves with toasted sourdough, and most importantly, a long handled spoon to tackle the jar – oft have I fumbled...
Mains (€18.50-€28) included sirloin steak; grilled hake with Savoy cabbage; and haunch
of wild venison. 12-hour slow cooked lamb (€24.50) with garlic potato gratin, roast fennel, green beans and rosemary jus, was all it promised, mouth-wateringly tender. Equally stunning was pan-fried wild halibut (€28), a great meaty fish and also a real treat, with celeriac cream, wild mushroom celeriac risotto, cavolo nero, capers, raisins and Second Nature rapeseed oil.
Desserts were sensibly priced at €8. They all sounded luscious, from milk chocolate delice with honeycomb and vanilla ice-cream to lemon tart with blueberry gel and mascarpone cream. We shared 'broken passionfruit egg', a brilliant snow white 'smash up' of feather light meringue with a centre dollop of deep passionfruit curd and cream, scattered with fine chocolate crumb. Oh yes, that was moreish. In fact, Anocht is very moreish all round and it's easy to see why it was packed with regulars. Washing all of this down with a bottle of organic Domaine Ville-Rouge Crozes-Hermitage 2014 (€35.50), we strolled across the gardens to our splendid room in Butler House, the historic Dower House of Kilkenny Castle.
Anocht,
Kilkenny Design Centre,
Castle Yard,
The Parade,
Kilkenny.
Tel: (056) 772-2118
anochtrestaurant.ie
lucindaosullivan.com
First Published In The Sunday Independent