Our Latest Great Place To Eat - Suesey Street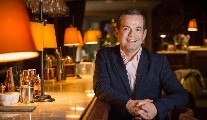 Tuesday 21 March 2017
The emphasis now, as is everywhere, is on a more informal approach eating and drinking. The front area is a comfortably club type bar, with a dining area 'around the corner' as it were, and the super covered in terrace with a retractable canopy and focal fireplace, making it perfect for all year round al fresco dining.
The general manager here is the famous John Healy, known far and wide for his turn as Maitre' d on TV3's The Restaurant, not to mention his wealth of experience, having led the charge in some of the best restaurants in New York, London and Paris. A consummate professional, and always with a welcoming smile, John really is the perfect host. The head chef here is Gareth Naughton, who specializes in top-notch, sophisticated contemporary cuisine, and has brought his skill and flair to Suesey Streets Kitchen, dishing out some of the best high end casual food available.
On my return visit, a la carte starters included whipped goats cheese with croquettes, nuts & seeds, beetroot and a blackberry dressing, as well as roast scallops with a sea vegetable risotto and pickled seaweed. I went back and forth for a while but eventually decided on the organic cured salmon, a fishy delight served with soya, apple, radish and cucumber, whilst Brendan opted for the fan seared foie gras. Rich and delicate, he was more than pleased with the dish he was presented and happily obliged in cleaning his plate.
The mains had plenty for us to consider with dishes like lamb loin with potato mousseline, wild garlic, asparagus, peas, morrels and a lamb sauce; or pressed duck leg with foie gras, beetroot, rhubarb and blackberry. Their roasted Irish leek was on offer with hazelnut, gnocchi, truffle and goats curd, while turbot was there also, served with Jerusalem artichoke, winter mushrooms and truffle. Himself fancied the fillet of beef which proved an impressive tranch, accompanied by pressed potato, braised oxtail, salsify and chanterelle mushrooms, which he thoroughly enjoyed. Meanwhile, I had my sights set on the John Dory, a delicious and perfectly prepared piece of fab fish flanked by poached langoustine, cauliflower, sea herbs and tasty vadouvan spice.
With still a little room on board, and more than happy to extend our stay, we gleefully perused the dessert menu which was full of tempting treats...