Restaurant Review - Thali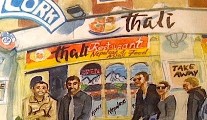 Wednesday 22 March 2017
Having worked together in a Cork city centre restaurant for 17 and 14 years respectively, brothers in law, Basanta Neupane and Lok Nath Tripathi decided it was time to open their own restaurant. Being from Nepal, with its own distinctive cuisine, their new Thali restaurant on Pope's Quay certainly adds a welcome new dimension to Cork's dining repertoire.
People tend to think of Nepalese as being very similar to Indian food, and while there are many similarities, their cuisine has lots of neighbouring influences including Burmese and Thai and of course Chinese. We've had a few Nepalese restaurants here, particularly in Dublin, but this is a first for Cork, so I was interested to try it.
The decor is rustic naïve in style with a colourful mural of the Himalayas depicting exotic palaces and village life, which really sets the tone.
We were greeted warmly on arrival and seated on a long banquette, where we were soon brought poppadoms and dips. Starters (€4.50-€8.50) included Piyaz Ko Bhaji which Indian afficionados will recognise as those tasty little onion pakoras that we all love. Paneer Tareko was breaded and deep-fried homemade cottage cheese, while Newari Sadeko could be had as either chicken or lamb marinated in Himalayan herbs, green chilli, red onions, spring onions, ginger garlic, lime and mustard oil, and served on a bed of salad. Lamb kebabs featured too, but the most famous Nepalese dish is momo – a must if you want to earn your Nepalese street cred. Basically momo are to Nepal what dim sum are to China and gyoza to Japan, delicious little stuffed dumplings served steamed or fried with a dipping sauce. Traditionally they were filled with buffalo meat, nowadays chicken or vegetables are more common. At Thali, five little momo (€5.90) were stuffed with minced chicken, tossed with ginger garlic paste, steamed and served with a homemade chutney; while a trio of great big Jingha Poleko (€8.50) – barbecued jumbo prawns – served on crispy lettuce with lemon and a little dish of raita, were both filling and delicious.
An extensive list of mains (€8.99-€15.95) covered chicken, lamb, prawn and vegetarian curries, including jomson vedo – lamb curry cooked in a medium-spiced onion-based sauce with mountain herbs. Indian restaurants are brilliant for vegetarians, and the same applies to Nepal, where they more commonly eat a lot of pulses and vegetables, and meat is a treat. Clay Oven and Asian favourites included tandoori chicken; lamb kebab; tandoori prawns; chopsuey; chowmein; and a Thai curry. Thali specials had the interesting sounding Chatamari, which is a Nepalese-style pizza, consisting of a thin rice-flour pancake topped with chicken, eggs, tomato and onion. We, however, shared a Thali set (€15.95), a selection of dishes served on a round platter, which included rice; lentil soup; spinach; Masu chicken curry in a rich onion and tomato gravy; and salad with a crispy poppadom roll and a delicious dipping sauce.
We were full at this point, so passed on Sweet Treats (€4.50/€5.50) of kheer (Nepalese rice pudding); gulab jamun (spongy milk balls); chocolate cake; or ice-cream. They serve beers bottled and on tap, and they have eight modestly priced wines, as well as juices and mango lassi. We were driving and stuck to water, so our bill, with an espresso (€2) and optional service, came to €37.15. They also do takeaway food, if you want to enjoy it at home.
So, do a 'Bing & Bob' and hit the road to Nepal, via Thali, and try something deliciously different.
Thali
30 Popes Quay,
Cork.
Tel: (021) 455-3389
thalinepal.com
lucindaosullivan.com
First Published in the Sunday Independent