Our Latest Great Place To Stay & Eat - Castle Oaks House Hotel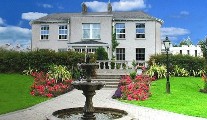 Thursday 16 March 2017
This classic Georgian Manor House is set in the charming village of Castleconnell, close to the N7 offering easy access to Limerick City as well as Shannon Airport. A bastion of good taste, Castle Oaks has all the plush furnishings and classic décor that you could ask for while still offering all the modern amenities one would expect.
Their classic rooms do a fantastic job of marrying contemporary and period styles, all with their own unique charms and original Georgian features. Spacious and airy with rich linens and attractive furniture, all classic rooms offer free WiFi access and flat screen TVs. If you fancy a treat, splurge on one of their luxurious Superior rooms with king-size beds, mahogany furniture and fabulous views of the River Shannon and the gardens surrounding the house. If you have the little ones in tow, there are a couple of different choices. They have spacious family rooms in the manor house featuring a double bed and up to two singles, or for a little more luxury try one of their family suites situated in the courtyard, which sleep four adults or two adults with up to four children and offer two bedrooms, two bathrooms and a spacious living area with many of the suites looking out onto the Shannon.
They also offer self-catering holiday homes many of which have breath-taking views and each feature three bedrooms and two bathrooms, a tastefully adorned and spacious lounge with satellite TV and an open fireplace. They also feature an open plan kitchen and dining area fitted with all the modern conveniences – cooker, fridge, freezer, washer, dryer and microwave, as well as pots, pans crockery etc. The holiday homes surround a large green area which is perfect for the kids and all self-catering residents have full access to the on-site facilities of the hotel
If you're the active sort or just love being pampered and spoiled, then Castle Oaks is the place for you with a comprehensive range of leisure and health facilities. Their modern gym is well equipped and would meet the standards of any fitness guru. Take a dip in their 17-metre swimming pool before enjoying a bubbly Jacuzzi and a cleansing trip to the sauna or steam room. There are daily classes, led by experienced professional instructors, ranging from Pilates and circuit training to aqua and step aerobics. For the outdoor sportsmen, they offer on-site salmon fishing and kayaking as well special angling outings for beginners and experts alike. The surrounding area also offers a great range of activities including boating, cycling, horse-riding and golf as well as being close to some great country trails which allow walkers to take in the best scenery that the Shannon area has to offer. If that all sounds like too much work when you're on holidays then head over to their Velvet Rooms health and beauty salon and indulge in their fab range of beauty and massage treatments from facials to waxing to massage to holistic treatments, there is something for everyone.
When it comes to food and drink at Castle Oaks, there is plenty to choose from...