Our Latest Great Place To Eat - Dining Room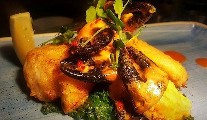 Wednesday 08 March 2017
The room itself is welcoming and warm with modern clean paint work and pretty hanging light fixtures to the front. Towards the back some very fashionable brick work gives an extra bit of character to the place. We were quickly greeted by a very friendly young waitress who showed us to our table and, as we took our seat, we both began to feel that we had made a good choice.
Chef and owner Kevin Stirzaker has spent many years perfecting his culinary talents and has not only worked in some of Mayo's busiest spots, but has also brought his skills to London's fine dining scene, cheffing alongside some of the world's best. Having worked alongside wife Shirley in lots of different restaurants over the years, opening their own establishment became their dream; a dream that after twenty years finally came true. Dining Room deals in really good contemporary Irish cuisine for which they strive to use the freshest ingredients and best local artisan produce possible. The ingredients change seasonally meaning that their menu is always full of fresh and different dining options.
When I was there, their starters included Galway goats farm cheese crouton with crispy camembert, spiced apple and an onion compote; chicken liver pate with a port and cranberry sauce served with pickles and toast; as well as a seasonal soup served with homemade breads and Cuinneog butter. The better half's eyes lit up when he saw the Andarl Farm black pudding and seared scallops on the menu, a dish he has always loved, and he wasn't disappointed when it arrived, beautifully presented and perfectly prepared, with a tasty remoulade and tomato & chilli jam. I proceeded in a similarly fishy fashion, opting for a delicious bowl of pot steamed Killary Fjord mussels, crab claws and prawns, all set off by a spiced butter sauce. It was a fishy fiesta!
On offer for the mains there were dishes like a slow roasted Andarl Farm pork belly with seared scallops, pineapple salsa and roast gravy; not to mention Gilligan's grass fed fillet steak, which sounded very tempting with whisky peppercorn sauce and crispy stuffed mushroom on the side. I thought about going the veggie route with their fire roasted tomato & barley risotto with rocket, chili and fresh parmesan, but in the end my carnivorous side won out and I went with a fantastic rack of marinated Gilligan's lamb and was so glad that I did. Presentation is vital, and all of Chef Patron Stirzaker's dishes look just as good as they taste, and believe me they taste good. My lamb was perfectly prepared, perfectly pink, and complimented beautifully by confit belly, tasty champ potato and a mint jus. Himself across the table quite fancied their grilled free range chicken which he enjoyed immensely with its Carrowholly cheese stuffing, bacon and a garlic butter sauce.