Our Latest Great Place To Eat - Republic Bar & Grill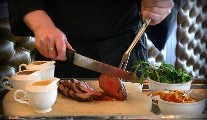 Thursday 02 March 2017
From the moment we stepped inside, we felt we had landed on our feet. The interior is bright and spacious with polished hardwood floors, rich leather clad seating and some attractive bronze and gold light fixtures dangling overhead, all emphasized by the large, almost floor to ceiling windows on one side, giving great light to the room. Offering a classic New York style grill menu with fresh, local when possible, ingredients, and a selection of wines chosen specifically to pair with their menu, the Republic is modern, vibrant and atmospheric without all the hoity-toity nonsense that often gets in the way of a really good time.
We took a seat in one of the plush blue banquettes over by the windows and began to peruse the menu. Starters, on our visit, included their Republic pate served with house made chutney; a warm pear and Cashel blue cheese salad with toasted walnuts; as well as Union Hall fish cakes with a rocket salad and Aioli. Always a fan of good seafood, I was torn between the West Cork seafood chowder and the eventual winner, a mouth watering dish of perfectly prepared hot garlic prawns accompanied by a side of tasty sourdough. Brendan stuck to the farmyard with a plate of Jd Gately's famous spicy chicken wings which he found finger lickin' good with a blue cheese dip and celery.
There's lots on offer for the mains with plenty of options to satisfy all palates, from the oven roast supreme of chicken with a creamy mushroom & white wine sauce to a goats cheese and beetroot falafel. From the grill, there were 10oz sirloins, 8oz fillets or 6oz flash-fried fillets, all being served with sauté onions and mushrooms, not to mention a 6oz Wagyu beef burger served on a brioche bun with a crispy onion stack. And, if you fancy it, you can go Surf n' Turf with the addition of 5 garlic prawns to any dishes from the grill at a small extra charge.
The pizza lover too is accommodated at the Republic, with 14" thin and crispy numbers and plenty of toppings to choose from. Himself decided on the monkfish tempura, which arrived to our table with a minted pea puree, garlic aioli and fries, whilst the great tranch of fish came delicately dressed in a featherweight batter. I decided to try one of their house specialty pies, which included a creamy chicken and leek offering in a light puff pastry, or a seafood pie also in a light puff. I had a taste for a traditional shepherd's pie and was more than happy with the delicious fresh dish I was brought...