Restaurant Review - 64 Wine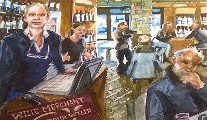 Thursday 02 March 2017
Our style of dining has changed dramatically for the better, requiring chefs and restaurateurs to rethink and up their game. When I started this job of reviewing restaurants for the Sindo some 25 years ago, going out to dinner was very much a weekend occasion of white tablecloths, a lavish starter, a trencherman-sized, heavily-sauced, meat-and-two-veg main course, then a cream laden pud to finish you off.
I bemoaned the fact, for years, that there weren't the options to eat out on an everyday basis, as they did in other countries, with good casual food, and a glass of wine that wasn't plonk. With a new breed of highly trained, imaginative and competitive young chefs, that has all changed.
People want to have two or three high-quality small plates, or sharing boards, ordering as they go along. You're eating as you wish, in a more elegant fashion, and not abandoning half a cow and a furrow of spuds on a plate!
Gerard Maguire recognised this need some years ago when he enjoyed the 'perfect repast' of a glass of local wine with confit duck salad in the Basque region of France, and so, 64 Wine in Sandycove was born. A wine shop focusing on small producers around the world, an artisan deli, and a café-wine bar, it was an instant success.
It garnered a huge customer base for continental-style breakfasts - great coffee and croissants, baguettes with Parma ham and brie; Manchego cheese with toast and honey - or antipasti boards at lunch. With demand so high, they have now enlarged the kitchen, and are serving, as well as their regular menu, bespoke hot specials on Friday and Saturday nights. The plan is to expand the repertoire and the opening times.
When we arrived on the first evening of the new menu (they don't take reservations) and it was pretty well packed at 6.30pm, but they managed to tuck us in snugly on a church pew, beside a merry crew, and, within five minutes, we felt we were at home. Being the 'first night', everyone was brought a delicious amuse of Hederman's smoked salmon with trout caviar, and lemon and dill mayo. Hot specials (€9-€28.95) included ham hock terrine with piccalilli; pan roast cod, squid ink mash, crispy kale; and, to share, organic Burren pork with new potatoes, fennel, cottage cheese curd, Madeira sauce and macademia. The sharing roast will change each Friday.
Moving along, we shared two dishes of barley and smoked scamorza arancini (€7) and salt-baked celeriac (€12). Both were stunning. Forget any notion of the soggy mozzarella rice balls of many a 'tomatoey' trattoria. Here, barley was used instead of rice, while smokey scamorza cheese, and a bone-marrow aioli resulted in a truly rustic earthy experience. The salt-baked celeriac, presented three ways, was amazing. Two thick tranches of this mighty root sat on a silky, pureed celeriac mash, topped with julienned strips, caramelised shallot, sprigs of herbs and onion oil. We finished off with a fabulous portion of gluten-free orange torte (€4.50) and a 'half' cheese plate (€8) – both were fantastic.
To drink, we had a glass of amazing Austrian Gruner Vetliner (€10) made from a blend of 17 different grapes, which was fresh, with tart apple, zesty lime with an almost sparkling zing. We also had another great wine, Roka Furmint, (€8.50), which is actually made by Liam and Sinead Cabot, of Westport fame, in Slovenia.
With fantastic wines, original food, and buzz to beat the band, it's easy to see why 64 is a winner. Our bill with optional service came to €58.
Oh, by the way, the fashionable Aperol Spritzers are for 'ladies only'!

64 Wine
64 Glasthule Road,
Sandycove,
Co. Dublin.
Tel: (01) 280-5664
www.64wine.ie
www.lucindaosullivan.com
First Published In The Sunday Independent