Restaurant Review - Bagots Hutton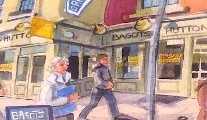 Friday 24 February 2017
Brian Deery and Giovanni Viscardi, who built up a great following in their South William Street basement wine bar, have relocated across the river to Ormond Quay with an ambitious new project. It is, in fact, now a vast operation, split into three areas.
There's a cafe bar and shop in the front area, opening from 8 am to cater for the daytime trade. Up a few steps from it, there's a stunning high-atriumed room with a main bar and stage for live entertainment. And in the basement, there's the BH Club, with a 120 seater fine dining restaurant. They will also be working alongside music promoter Eoin Long, to create the perfect live-music venue.
It's been a little while in the offing, but the new location has taken time to renovate to their standar, and it certainly looks good. I'd been in this location when it was the Ormond Wine Bar, and, while the layout is basically the same, now it's plush and lush, awash with subtle Farrow & Ball style colours. The mezzanine level is highlighted with a long, vibrant-yellow, button-backed banquette, while period French textiles combine with industrial period furniture.
Not only was I familiar with the building, I'd also had Chef Sam Carey's food when he was waving the pots and pans in DeSelby's on Camden Street, and I really liked his contemporary Mediterranean fare. So, I was curious to see what was happening on both fronts.
They've got things started with a concise a la carte menu of antipasti (€4-€16); charcuterie and cheese boards (€12-€18); pasta and pizza (€14-€19); plus a very attractive neighbourhood Menu, with 2/3 course at €19.50/€22.50, including a glass of house wine. This menu operates from Monday to Thursday all night, and on Friday and Saturday before 7pm.
It was early in the week and we were seated in the front cafe area. The a la carte menu included black olive tapenade, Irish mozzarella, smoked scamorza and toast, and seafood salad of oysters, clams, pickled mussels, yellowfin tuna crudo, crayfish and marinated anchovies. Spaghetti alle vongole featured as did papardelle with almond and sorrel pesto with fresh ricotta.
As it happened, the dishes we fancied were on the neighbourhood menu and the value was too good to pass up on. A large piece of crostini, on the prettiest pink floral plate, was topped with a delicious mix of crayfish and anchovies, arranged with cherry tomatoes, herbs and rapeseed aioli, while a lavish meat and cheese plate included Bresaola Coppa, a trio of Italian cheeses, home cured pickles, olives and house bread. Mary followed up with an excellent high-quality rigatoni pasta, topped with an earthy, rich venison ragu with smoked pancetta, Parmesan and rocket, while I had perfectly pitched al dente spaghetti with mussels, spicy n'duja, white wine and heirloom tomatoes. Attractive tableware really adds to presentation and both dishes looked wonderful.

At this rate we had to try the dolci. Fresh orange segments, drizzled with rosemary-infused honey, prosecco and elderberry emulsion, were fresh and light with a caramelised flavour, while a flourless orange cake (substituting for a sold-out chocolate truffle number) was also superb, topped with orange slices, hazelnut brittle, and a quenelle of white truffle.
With our two inclusive glasses of Reserve de L'Aube Pere Anselme 2015, and an extra glass (€7) between us, two coffees (€5.80), and service, our bill came to €63.80. Knockout value. Beat a path quickly over Capel Street Bridge!

Bagots Hutton
6 Upper Ormond Quay,
Dublin 7.
Tel: (01) 878-8118
bagotshutton.com
lucindaosullivan.com
First Published in the Sunday Independent