Restaurant Review - Mr. Fox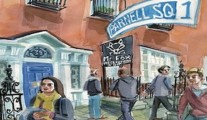 Thursday 09 February 2017
Stephen McAllister and Andrea Hussey, of the popular Pig's Ear on Nassau Street, have crossed the Liffey to open their second restaurant, in what was previously the Hot Stove on Parnell Square, which sadly closed at the end of October. McAllister will be known to many as a part of the kitchen team from the TV3 show The Restaurant. In the kitchen in this new venture is experienced chef, and new partner, Anthony Smith.
Mr Fox is set in a very beautiful Georgian basement, facing the side of the Rotunda Hospital and, as I said in my review of the Hot Stove three short years ago, basements are not always an immediate
 draw — nor is Parnell Square. The Michelin-starred Chapter One
 did pave the way for a high-end restaurant on Parnell Square — however, the brilliant team of Ross Lewis and Martin Corbett say it took them 10 years to achieve the recognition they deserved.
We tucked in at an almost embarrassing rate to crisp Tartine bread with fabulous cep butter and truffle mousse; it was as if we hadn't eaten for a week! Mr Fox offers what I call new-wave Irish food with Scandi influences.
Snacks (€5-€12) included pig's head paired with smoked pear; and Carlingford oysters with yuzu and apple. Starters (€8.50-€13) featured organic Irish trout with beetroot and fennel; bone marrow, snails, parsley and toast; as well as deer tartare with Jerusalem artichoke and redcurrants.
Having looked up the menu on their website the night before,
 as one does nowadays, I'd rather fancied crab ravioli with cockles and seaweed. However, that was
 off as "the crab hadn't arrived". I switched then to fried leeks with smoked eel gribiche (€8.50) and, in fact, I was glad I'd been forced to do so, for what I got was unexpected.
I presumed that a pretty, delicate fillet with ribbons of leek was on its way, but this chef was having none of that! I probably looked a bit startled when chunky, tempura-covered whole baby leeks stared up at me, complete with their 'hairy' roots; with the chopped eel and sauce gribiche, tartare-style, in a little mound. "How will I chew through those elegantly?" I pondered. Never fear, they were divine — a slight crunch, but soft as butter. The 
eel was sublime, and it's my new favourite dish. My friend chose retro-style stuffed eggs (€6) which had been given an update with chipotle peppers and Goatsbridge trout caviar; a brilliant touch. Everybody loves stuffed eggs, but you don't see them very often, except at your granny's.
Larger plates (€20-€26) included cod with succotash; and venison with a rich classical melange of salsify, hispi cabbage, trompettes de la mort and blackberries. I had partridge (€24) which featured two petite, perfectly cooked breasts on roast barley, chanterelles and parsnip and pear, which added the necessary sweetness to this superb bird. Equally rich was a colourful plate of gnocchi and veal shank (€20), layered with the golden colours of squash and spanking white ricotta.
A retro chicory coffee 'iceberger' (€7) brought a smile to my friend's face as it arrived wrapped in parchment paper, and was quickly scoffed. I had a 'Little Treat' of Mr Fox's 'Walnut Whip'. (€2.95) — a mouthful of cloud and chocolate. Just a perfect finish. The wine list offers something for everybody, with a half-dozen choices of both red and white wines by the glass. You could push out the boat with a Corton Charlemagne
 Grand Cru Domaine Muzard 2012 (€320.95) or, like us, enjoy an organic Italian Ciu Ciu Oris Falerio 2015 (€29.95), which brought our bill, with water (€4.95) and service, to €113.35.
Tally-ho to Monsieur Fox!
First Published In The Sunday Independent