Our Latest Great Place To Eat - Sivad Grill & Wine Bar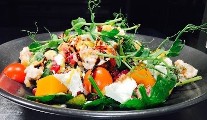 Wednesday 01 February 2017
This ethos is being embraced all over the place right now, but few do it as well as the Sivad Grill & Wine Bar in Ballyogan, Co. Dublin, where husband and wife team Frank & Dymphna Davis, along with their son Graham have brought 30 years of experience to the fore.
The philosophy here is simple, they offer distinctive, flavoursome food, exceptional wine, attentive service and a casual relaxing mood. Can you really ask for more?
The room itself is ambient and relaxing with dark rich furnishings, polished wood floors and some exposed brick adding to the overall feel of the place. We settled ourselves into a comfy booth to the side, of what is quite a big space, and began sifting through the menu.
Starters, on my visit, included crayfish tails and avocado with shaved green apple, sweetcorn, flaked almonds and purple cauliflower; garlic, honey and lavender scented goats cheese served up with black sesame snap, pickled squash, toasted caraway, baby chard and a blueberry jelly; not to mention the chef's soup of the day which was a tasty sounding Guinness & fennel brown bread. I opted for a wild Irish mushroom and Alsace bacon dish, which was beautifully presented, and utterly moresome with rosemary and black garlic, griddled sourdough and a tarragon veloute. Across the table, my dining companion that evening helped himself to some hot & sticky Glin Valley chicken wing's which I was assured were finger lickin' good with blue cheese and a cucumber & mint aioli.
For the mains, there was plenty to consider with a variety of mouthwatering steaks on offer from their grill, along side fab main dishes like Slaney Valley lamb rump with heritage carrots, pickled mushroom, green lentils, red currant and a tarragon jus; pan fried fillet of sea bass with samphire, fermented lemon, crayfish and orange pepper beurre noisette; as well as tempura battered fresh fish with tartare, crushed peas and a side of home fries. It had been a long hunger building day, and I was in the mood to really take advantage of my surroundings and go for their 12oz dry aged sirloin steak, which arrived to our table, cooked to perfection and adorned with a tasty rosemary butter sauce and served alongside Cajun onions, griddled Portobello mushroom, slow roasted beef tomato and a side of tasty home fries. Ace! Across from me, my pal was busily enjoying their crispy five spice duck, which was really good with orange, pinenuts, and pancetta stuffing, orange stem ginger and star anise.