Our Latest Great Place To Eat - Whelehans Wines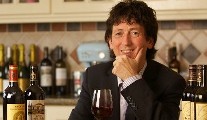 Wednesday 25 January 2017
When I first visited David Whelehan's vast new wine emporium in the bleak first days of January 2015, one half of me thought 'this place is amazing', while the other half wondered if he wasn't a bit mad. He'd taken over the old Silver Tassie pub on the N11 at Loughlinstown in August 2014, gutted it and turned it into an amazing sophisticated space with a uniquely informative way of displaying wines. The focus is on small family owned wineries from all over the world, from whom they are shipping directly, offering extra value, extra interest and something relevant to the burgeoning wine interest in Ireland.
It soon became a very popular spot, not only for wine sales, but for its small in-house wine bar cum cafe. Martina Delaney, who was for many years sommelier in L'Ecrivain, joined the operation, and as time went on I was hearing more and more of my friends saying they were meeting there for a coffee, a charcuterie plate or a glass of wine. As a result, like Topsy, the cafe space began to grow and grow, and now runs the full length of the rear of the building.
I returned to Whelehans recently on the arrival of Chef Nick Clapham, who is now running the food operation here and whose stylish casual fare I've enjoyed elsewhere for many years. Food is served all day every day and in the evenings from Thursday to Saturday. Starters included Bruschetta Pomodoro of balsamic marinated cherry tomatoes and basil pesto on toasted sourdough with Reggiano shavings, pine nuts and a red wine reduction, while a warm free-range chicken salad sported pickled beetroot, Greek feta, roasted hazelnuts, avocado guacamole and a honey mustard dressing. Clapham always did a great crab cake with celeriac remoulade and that featured here as a mains. Rena chose instead a slight variation of Lambay crab cake to start, which proved a substantial sized stunner served on a tomato salad, avocado guacamole, with sweet chilli jam and Bearnaise sauce. I had an absolutely fabulous starter special of prawn and crab claw gratin involving succulent chunky Wicklow crab claws and Dublin Bay prawns, finished with a garlic and lemon butter and served with toasted ciabatta and a guacamole dip. Bliss.
Mains each carried a wine recommendation by the glass, which is very handy. Also, you can buy any of the wines from the shelves and just pay €5 corkage, which is a great excuse to try more expensive wines. Chicken and mushroom gnocchi, wild mushroom and black pepper cream, spinach and Parmigiano Reggiano was matched with Turk Gruner Vetliner Vom Urgestein 2014; Seafood Linguine with Sin Palabras Albarino; and Beef Bourguignon with Domaine D'Eole Rouge 2014. Rena had a delicious bowl of smoked salmon and spinach risotto with a glass of the Gruner Veltliner. Again, I had a special of the night of melt in the mouth Barbary duck leg confit on Puy lentils and spinach with an aromatic Star Anise jus. With that I had a belting glass of Zenato Ripassa 2012.
Puds, which are always great here included Crème Brulee, sticky toffee pudding and chocolate fondant, but we had already overindulged on generous portions...