Restaurant Review - Lobstar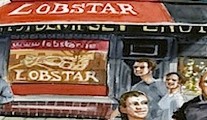 Thursday 02 February 2017
For weeks I'd been watching the progress of a shopfront on my home turf in Monkstown, wondering when the big red posters of 'opening soon' were going to disappear and then, hey presto, as I nipped into Greene's florists next door, they were down, and Lobstar's doors were open.
Needless to say, I was their first customer with my friend Rena. Set in a premises with a protected shopfront, this was originally Dempsey's Butchers, later an Indian restaurant, and latterly Cooke's Kitchen (Johnnie Cooke is now operating The Restaurant at Brown Thomas), a big red lobster emblazons white urban tiles above a line of tables for two. There's a long comfortable tan leather banquette, and a neat little window counter. It's a chic little spot, with a clean cut restrained urban look. The cutlery is nice, striped napkins are smart, as are the various plates and bowls that appear, which owner Viktoria tells us come from a much admired ceramicist in Hungary, which can only be afforded as it is a small restaurant. She also tells us that her husband Zsoltas, a smiling mighty-looking chap, has worked in a number of restaurants including Fade Street Social and Rock Lobster, while she was at the Powerscourt Hotel.
We Were pleasantly surprised by the breadth of the menu. A Bites section (€4.50-€8.50) covers Galway Bay Oysters with Granny Smith apple, celery, coriander, cress and cucumber; Black Rope mussels with saffron, white wine and basil cress. Salmon is beetroot infused while oxtail and bone marrow rillettes come with rustic bread. Starters (€5.65-€13.95) included panfried scallops with the uber hip cauliflower, black pudding, Romanesco and hazelnut; while chicken wings Asian style feature as does a slow braised ham hock terrine with star anise and Savoy cabbage.
Ahi Tuna Poke (€9.95) for Rena was superb. Basically a tartare of tuna, the fish had been chopped into perfectly textured size pieces, tossed in sesame oil, chilli, soya and spring onion and served with rustic bread. I too loved my 'Bite" of butter poached razor clam (€6.95), very finely diced with mango and courgettes, served in the shell with blobs of seatrout caviar. These were high-end starters that would stand the test anywhere.
'Lobstars' (€17.95 - €29.95) came by way of a whole split lobster; New York style lobster roll; lobster ravioli; lobster burger and a lobster pot. 'Dry Aged' (€28.15-€28.95) had an 8oz beef burger, 10oz rib eye and sirloin steaks, plus an 8oz fillet, the steaks served with caramelised onion puree, cep and beef jus, Bearnaise and a choice of potatoes. In addition, 'Fish' (€22.15-€24.40) sported pan-fried halibut and crispy sea bass. Whole split lobster (€29.95) was a decent sized chap, served with Bearnaise, a delicious citrusy mango and fennel salad, and my choice of indulgent truffle and Parmesan fries. Rena loved her crispy sea bass (€22.15), chopped in four chunks, on a swathe of Jerusalem artichoke puree, with golden beetroot, cashew nuts and mussels.
Chocolate mousse (€6.10) was light and delicious with sprinkles of chocolate cake and sea salt powder, raspberries, mango and basil puree.
Hungary produces some great wines which you don't often see reflected on Irish lists so we took the opportunity of having a delicious Takler Flort (€29.90), a blend of Sauvignon Blanc, Riesling and Chardonnay, with just a hint sparkle and pineapple citrus undertones, and resisted indulging in a cracking Disznoko Tkaji Aszu 5 Puttonyos dessert wine – but do so if you can, it's a cracker!
Our bill, with optional service came to €115.
Lobstar
101 Monkstown Road,
Monkstown,
Co. Dublin.
Tel (01) 537-3323
lobstar.ie
lucindaosullivan.com
First Published In The Sunday Independent