Restaurant Review - Dulse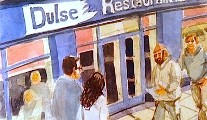 Wednesday 25 January 2017
Dulse is where the old Mulberry's was in Barna Village Centre, just outside Galway. In fact, it's still the same team, James and Deirdre Cunningham, who've given their popular longstanding restaurant a makeover.
The couple are also behind Connemara Food Ventures producing seaweed health products, Nori Bake, an organic seaweed blend for baking, as well as dairy and gluten free smRt bars. Last Autumn they teamed up with Chef David O'Donnell, previously at the Ardilaun Hotel, with the focus of the menu being local and seasonal produce and of course no doubt with the eponymous seaweed featuring in contemporary presentations and ideas.
Galway has been high on the foodie scene over the past couple of years and so my interest was sparked in Dulse with O'Donnell's input, so we wheeled up one Sunday for lunch. The new Dulse Pantry was not yet open, it has since, and we settled ourselves in on a long banquette in what is a large spacious room, and were soon brought delicious fresh breads and scones with seaweed butter.
The menu was very attractive, priced on an a la carte basis, or 2/3-courses at €21/€25, with supplements applying to the more expensive dishes. Starters (€9.50/€10.50) included Aran Island goats cheese; and parmesan and panko crumb baby monkfish with cucumber, fennel, wasabi and organic leaves. The goats cheese (€9.50) came by way of three lightly crumbed balls clustered under 'Uncle Matt's leaves, with baby asparagus, hazelnut and pear, and Brendan enjoyed it. I had delicious Connemara crab (€10.50) again under a whoosh of mixed greenery somewhat hiding its bed partners of shards of smoked mackerel, avocado puree, giant couscous, green beans, and cherry tomatoes.
Mains (€19-€26) sported a 10-oz Gilligan's rib-eye served with crushed spring onion kale and 'Uncle Matt's' kale, while The Friendly Farmer's pasture reared chicken came with Heritage roast carrots, garlic confit, herb mash and thyme. Slow-cooked Irish pork belly came with Clonakilty black pudding, kale mash and roast vegetables whilst a Ballyhoura mushroom risotto with aged parmesan and truffle oil also featured. We would have been happy with any of them, but being out West, poisson was on our minds. Brendan had a fine tranch of Atlantic hake (€21.75) napped with a tarragon cream and micro herbs, atop pearl barley risotto, with a trio of charred leeks standing proud and adding structure. I had an outstanding special of whopping great scallops complete with lovely roes (€23), perfectly seared, moist and silky, circled with a beurre blanc and resting on black pudding mash, with more organic leaves.
We passed on puds, which included salted caramel tart, spiced orange cake, cardamom chocolate brownie and plum velvet cloud yoghurt cake. With bottled water (€4.95), a glass of Candidato Tempranillo (€6.75) for Brendan, and €1.50 supplement for my crab starter on our 2-course €21 menus, our bill with optional service came to €67.20.
Later that day, having moved further west into Connemara, I got a Facebook message (I know, I know, I can hear Jeremy Kyle screaming) from James Cunningham to say that the arrangement with David O'Donnell had come to an end earlier that week, so what we'd received wasn't O'Donnell's food at all, though it was certainly delicious. Since the split, Chef Joe Flaherty, who started his career under the wonderful Tim O'Sullivan at Renvyle House Hotel, has taken over the kitchen. So hopefully this will be a match made in seaweed!
Dulse,
Barna Village Center,
Co. Galway.
Tel: (091) 592-123
dulserestaurant.com
lucindaosullivan.com
First Published In The Sunday Independent