Restaurant Review - Ember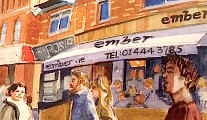 Friday 20 January 2017
'Love, love me do, you know I love you' was coming over the music system, as we crossed the threshold of the new Ember restaurant in Milltown on its first night. Looking around at the smart bar, and chicly kitted out room, it felt like being in Madrid, and we were loving it already. As I looked at the number of lithe leggy blondes and handsome bearded guys arriving in after us, it cemented my view that this was far more than a run of the mill neighbourhood restaurant, this was going to become a destination in itself, which would draw the hip crowd who frequent Ranelagh and Dundrum for their cocktails and casual contemporary fine dining.
Greg O'Mahoney is the chef patron. He was first drawn to my attention by Tom O'Connell of O'Connell's in Donnybrook – a man who knows his onions! O'Mahoney fine tuned his culinary skills in some of the best kitchens in Ireland including Chapter One, L'Ecrivain and Pichet. He has also worked in San Sebastien, which has more than its share of Michelin starred restaurants, and he is brought some of these influences to the Ember menu with a Basque style plancha and a charcoal/woodburning oven.
Starters (€7.50-€15) included chestnut veloute, buttermilk potato and smoked chicken, while Embered bone marrow was paired with razor clam, 63° egg (sous-vide cooked), black garlic and sourdough. House cured and smoked salmon, was with crab, avocado, caper flowers and black olive, and scallops were cooked a la plancha and served with chorizo, apple, squash and dillisk. All of these appealed, but the idea of a slow cooked risotto involving squid, caramelised onions and Gruyere cheese, won out. Needless to say, this was just perfect with the right amount of moisture, yet retaining a sense of the grain. Surrounded by squid ink and combined with silky slivers of cephalopod and caramelised onions, a Gruyere foam was the icing on the cake and a real flavour burst. Chestnut veloute, for the friend, was also ace and a dish of two halves. A pool of buttermilk potato arrived on one side of the soup plate tweaked with a quenelle of smoked chicken and a crisp, the chestnut veloute was then poured on the other side creating a coffee and cream look.
Mains (€16.50-€32) included venison with celeriac, blackberries and chocolate jus, while steaks (€20-€32) covered all price options with an 8oz feather blade, a 10 oz rib-eye and the top priced 8oz fillet. Sharing dishes included a 23oz cote de boeuf (€65) and halibut Basque style with Boulanger potatoes (€55). I rather fancied the halibut but reviewers have to try two different dishes, so it was hake (€20) for me, again a perfectly cooked and delicious tranch, sitting on scattered elements of artichoke, crispy mussels, rainbow chard, gnocchi, and topped with Chardonnay grape vinaigrette. The dining companion chose what I think will be a very popular staple – half-free range chicken (€20) cooked three ways – barbecued, buttermilk, and braised in orzo and corn. With these we had a side of fries (€3.50) and a nice light healthy version of mac'n cheese (€3.50).
As it worked out, the dishes we had both chosen were on that evening's 2/3 course early bird at €22/€27 (from 5pm-6.30pm) and so we proceeded on with a scrumptious apple crumble and custard and a zingy lemon meringue pie topped with a blackberry compote.
There's an excellent wine list, and with a bottle of fresh clean tasting Ruedan Protos Verdejo 2015 (€32) our bill with optional service came €110.
This ember sure sizzles.
Unit 6
Milltown Shopping Centre,
Milltown Road,
Dublin. 6.
Tel: (01) 444-3783
ember.ie

lucindaosullivan.com
First Published In The Sunday Independent