Lucinda's Lookback on 2016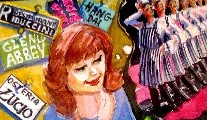 Tuesday 03 January 2017
It's been a busy buzzy year on the dining scene, with eateries at all levels opening apace. With a whole new wave of young chefs challenging the more staid establishment figures, we've now got restaurants and cafes in old train carriages and buses, and we've had
a tiny restaurant in a market, sans any loo, awarded a Michelin Star.
As we're winding down the 12 days of Christmas, here are my 12 hottest dining experiences of 2016.
Ticket to Ride
The train may not have left the station at Glenlo Abbey Hotel in Galway, but Chef Alan McArdle's food on board the Pullman Restaurant in January was Michelin standard. Set in two exquisite original carriages from the Orient Express, we sat in a dreamy carriage with inlaid wood panelling, antique lace curtains and fine china, dining on confit duck, foie gras and Beluga lentil jus.
glenloabbeyhotel.ie
Room with no Loo
"Fine dining doesn't have to be a stuffy affair, they are dishing up haute cuisine without any haughtiness", I said, on reviewing Heron & Grey last February. Set in a tiny room with no loo, let alone a view, in Blackrock Market, Andrew Heron and Damien Grey, served a tasting menu to die
for, going on to win this year's only Michelin star for Ireland, with the resultant stampede seeing them booked out until August 2017. heronandgrey.com
Sunil's Pickle
Sunil Ghai brought a new energy to Indian street food with his Pickle Eating House on Camden Street
in February, recreating the faded elegance of the old Irani cafes of Bombay. Try Tawa Machi – fish & chips as you've never had it before – boneless seabream with crab chutney, 'micro-chips' and pickles. picklerestaurant.com
Big Apple Asian
With great cocktails and food by Chef Tao Trakoolwattana, Paul Cadden expanded from Clarendon Street to Baggot Street in April with a stunning
New York style Saba restaurant and bar. Don't miss the Vietnamese Summer Rolls. sabadublin.com
Star Studded Indian
Nisheeth Tak's Rasam Indian Restaurant in Glasthule is the haunt of everyone 
from Miriam O'Callaghan to Chris de Burgh, Pat Kenny to Eastenders star Jessie Wallace. The food and atmosphere is brill with Saturday nights being a who's who
of famous faces. The new menu has just been launched – try the Kokum fish curry from Kerala. 
rasam.ie
No Reservations
With a no bookings policy, I sat outside John and Sandy Wyer's new Forest & Marcy waiting for it to open. It's a chic bijou with exquisite contemporary Scandi-Irish food by Chef Ciaran Sweeney. Expect lots of crispy fish skin tweaks. Try the whipped brandade, it's ace! forestandmarcy.ie
Michelin Pizza
You don't actually expect to have your pizza cooked by a Michelin starred chef but the fact that Osterio Lucio on Grand Canal Quay is owned by Ross Lewis of Chapter One raises the bar. They also serve fab regional Italian dishes too. Sitting out front in July with a cocktail and an Apis pizza of spicy salami, honey and basil, was wow. osteriolucio.com
Gastro Gaz
Some chefs really do 'flavour' better
than others and Gareth 'Gaz' Smith, Chef Patron of Clonskeagh House, which opened in August in D6, just cracks it. As well as rib-eye burgers, Smith can turn out a daube de boeuf or a langoustine gratin that knocks your socks off. clonskeaghhouse.ie
il numero uno Italiano
Attending Savour Kilkenny in October gave me the perfect excuse to visit the divine Rinuccini in the shadows of Kilkenny Castle. Run by the delightful Cavaliere family, there's simply nothing like it in Dublin! Wines are imported from Italy and the mouthwatering food is exquisitely executed. Antonio's ravioli alla crema di Gorgonzola is ethereal. rinuccini.com
The Maharajah's Castle
In October, we also headed out Wesht to the Owenmore Restaurant in Ballynahinch Castle in Connemara where superb Chef Ultan Cooke, delivers on food that is complex, contemporary and delicious. The castle, once owned by an Indian Maharajah, is just amazing and very different. ballynahinch-castle.com
Rocking Chinese
Forget jingly Chinese music and sloshy stir-fries, Karl Whelan and Will Dempsey's new Hang Dai on Camden Street rocks. Hitting the ground running in November with lots of glam cocktails and a touch of Suzie Wong sassiness, it's like sitting in a Shangai Metro with the cast from a Bond movie. Duck is the star of the show here, cooked on an open wood- burning oven.
hangdaichinese.com
Hotelier of the Year
From Kennedy to Obama, all American Presidents have laid claim to the old sod, but Donald Trump is the only one who actually owns a spread here! He's certainly winning the popular vote in Doonbeg, Co. Clare, and they'll love him even more now every Republican supporter in America is going to be flying in on their helicopters to
be able to say they played golf at President Trump's Hotel. The former Lodge at Doonbeg is a superb place, with wonderful decor and food, and
a delightful friendly staff headed up
by General Manager, Joe Russell. It was pure bliss sitting in the Ocean Restaurant looking out at the Atlantic while enjoying a superb seafood risotto washed down by a fine Riesling. trumphotels.com
Happy Christmas to you all!
lucindaosullivan.com
First Published In The Sunday Independent