Restaurant Review - Ballynahinch Castle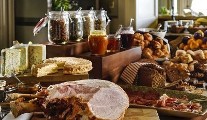 Monday 02 January 2017
"Once over easy?", asked the friendly waiter of a party of American tourists as they ordered fried eggs in Ballynahinch Castle Hotel in Connemara. The breakfast spread was amazing, with a freshly baked ham cooked every morning, wonderful fruits, charcuterie, cheeses and breads, and accompanying chutneys and sauces in their rightful spot. It seemed no time at all since we'd all stood up from dinner the night before, everyone in their best dress and pearls, and here we were back again in our casual gear for more delicious food.
Ballynahinch Castle is stunningly located on a 450-acre private estate of woodlands, 
rivers and walks, overlooking
the Owenmore River and its famous salmon fishery, with a backdrop of the glorious 12 Bens mountain range. I hadn't been 
to Connemara for a while, and was seeing it again with fresh eyes, the rainbow of colours, the waters, bull rushes, quirky signs, rambling sheep, rocky roads – you can see what had Paul Henry so mesmerised that he painted it time and time again. Ballynahinch Castle's history is straight out of the movies – from the O'Flaherty/ O'Malley clans to Richard Martin, 'Humanity Dick' who introduced the Cruelty to Animals Act to the House of Commons in 1822, to the colourful Maharajah Jam Sahib
of Nawanger, known as 'Ranji Prince of Cricketers' who had come originally for the fishing. The bedrooms and Owenmore Restaurant have had a very chic upgrade but the ambiance is not in any way stiff or formal, it's totally relaxed and there is also the family-friendly Fisherman's Pub and Ranji Room, which also serves more casual food.
Hotel dining has changed for the better in recent years, so I was interested to see what Head Chef Ultan Cooke, formerly of the Michelin starred Aniar in Galway, was now delivering in the Owenmore Restaurant at Ballynahinch. Cooke cooks, if you'll forgive the pun, in a style that is complex, contemporary and clean, delivering on layers 
of flavour with food that is light and luscious. Dinner was €65 and kicked off with 'chef 's canapes', a duo of bite sized crispy black pudding truffles and crispy kale shards topped with black garlic, all sitting simply in the middle
of a wooden 'plate'. Brendan had delicious Galway goat cheese balls arranged with courgette ribbons, crumbled walnuts and apple. I absolutely loved the contrasting textures and flavours of my smoked eel, which had a brace of finger sized tranches, criss-crossed over silky purple potato pieces, topped with the burst in the mouth flavours of trout caviar, crunchy crispy mini onion rings, pea shoots and puree dots.
From a choice that included duck breast, wild brill, and giant couscous, Brendan had superb elegant bourguignon style
beef sirloin with tortellini, tiny broccoli spears and a whopping king oyster mushroom. Sticking with poisson, I had a ray wing, perfectly cooked with a little bite yet yielding easily from the bone, set off with elements of beetroot, crisps and sections, gnocchi and samphire. Ace.
Brendan finished with delicious whiskey ice-cream, while I had Milleens, Durrus and Wicklow Blue cheeses with chutney, quince and crackers.
There's an extensive but not intimidating wine list and we enjoyed an aromatic Alsace Hugel Gewurztraminer A.C. 2013 (€36). On an overnight package including dinner at €315 plus wine, our bill came to €351, which we thought was excellent value.
With a vibrant food scene, it's no longer 'to hell or Connacht', it's head Wesht fasht!
Owenmore Restaurant,
Ballynahinch Castle,
Recess, Connemara,
Co. Galway.
Tel: (095) 31-006
ballynahinch-castle.com
lucindaosullivan.com
First Published In The Sunday Independent