Our Latest Great Place To Eat - Riba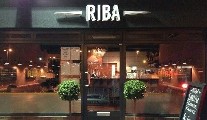 Tuesday 05 January 2016
With the evening that was in it, we had thought about heading straight for home, but the moment that we set foot in Riba we were sure glad that we didn't. From the second we arrived, there was an atmosphere of warmth exuded both from the staff and the décor.
Inside, the restaurant isn't huge, but, they haven't packed the place with tables and chairs, instead accommodating thirty or so diners and giving them room to breathe, unlike some sardine cans I've been packed into in the past. With comfy banquette and booth seating, polished wooden floors and a very cool chandelier mad from old glass milk bottles, Riba has a feeling of classiness, but with a laid back hint of hipster.
At Riba, their focus is on providing their patrons with a menu that utilizes the best of Irish producers and farmers. On my visit, starters included handmade ricotta, spinach and Parmesan, gnocchi with a butter and sage sauce; Fivemiletown goat's cheese salad with baby leaves, red onion rings, pomegranate, beetroot and lemon dressing (which was quite tempting); as well as beef brisket croquettes with artichoke puree, and a crunchy salad. I decided to try their trio of crostini which were melt in your mouth delicious trilogy of tomato & basil, ricotta & grilled courgettes, and Ponto Fresco porcini. Himself had the hot and spicy free range chicken wings, which he found tender and toothsome with a really good Cashel blue cheese sauce.
For the mains there was lots to please the beasts of prey, with a 9oz 28-day dry-aged rib-eye steak with sautéed cherry tomatoes and broccoli leaves, duck fat roast potatoes and a choice of green peppercorn sauce or garlic butter; slow roasted pig cheeks were there with a soy and maple glaze, butterbean puree, polenta Parmesan and truffle chips; not to mention a braised shank of Irish lamb with spring onion mash potato, braised roots and a lamb jus. I considered trying the confit Barbary duck leg, which sounded tasty and succulent with thyme fondant potato, sweet sour red cabbage and raisin, toasted walnuts and a blueberry jus, but opted instead for their Riba seafood skillet which was an ocean of delightful fresh and smoked fish, Strandhill wild mussels, black tiger prawns, baby potatoes, seasonal vegetables in dill with a garlic and chilli white wine cream, and served with garlic and parmesan bread. Fab!