Restaurant Review - Bastible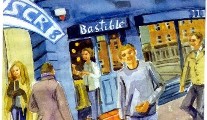 Sunday 20 December 2015
As I told you three months ago in Spilling the beans...D8 is where it is at now when it comes to edgy dining with a vibe. Dublin has become one large global restaurant and city centre rents are off the wall precluding many talented young chefs from getting a foot on their own ladder without a backer. Most of the hot city centre eateries are part
 of groups owned by the big boys 
of the restaurant industry, some with up to seventeen or eighteen restaurants in their portfolio. It's
 a case of the old country saying 
'have a goose, get a goose'. The good side to this is that some great new eateries are opening on the outskirts where rents are lower.
A few years ago no one would
 have touched D2's Camden Street,
 as a restaurant venue, with a forty-
foot pole. Now, every square yard
 is absolute gold dust. This has
 pushed the demand for premises 
to the neighbouring borough of 
D8, where Lock's was re-opened 
a couple of months ago by chefs
 Keelan Higgs and Conor O'Dowd,
 and is now a hive of activity. Now, 
nearby at Leonard's Corner, Barry
 Fitzgerald's new Bastible, on its 
second night of service, was as 
near perfect as anywhere I've 
come across. Fitzgerald was Head
 Chef at Etto, when it received a
 Michelin Bib. His new venue, has
 been transformed with deceptive simplicity into an uber smart minimalist eatery. Coated from 
floor to ceiling in what used to 
be called 'Georgian dining room 
green', the lighting is urban hang
 down style, and the L-shaped
 counter cum kitchen is completely
 open. The disarming thing about
 the less formal ambiance in some of these eateries is that the customer is getting very formal contemporary'fine dining'on the plate at really good prices. Such is the case at Bastible – which by the way means a 19thC cast iron pot. Dinner offered 2/3 courses at €30/€36 with trios of starters, mains and desserts, plus a special on the blackboard.
Did we want anymore? No, of course we didn't want any more because the menu was so well chosen – fish, beef, duck and a vegetarian dish. It's a very classy derivation of what one might a couple of years ago have called a Nordic style. Delicious roast beetroots was a palate of beets of every shade, shape, texture and translucency, with varieties I probably never heard of, arranged with black garlic, smoked ricotta and fronds of greenery. A broth for my friend Paul had 'pulled' ham and a pair of plumptuously creamy milk curd dumplings peeking out seductively from under 'burned' shallot leaves, cauliflower shavings and watercress. Wild duck was with pickled quince, spatzle and Brussel tops, while roast onion squash was with chestnuts and warm egg yolk.
I had a magical dish sporting Black Sole in the form of two rectangular fillets, seared to a golden brown, firm and moist on the inside, with wafers of salt-baked kohlrabi, cockles and a kale jus. Chargrilled rare shoulder of beef for Paul, in the form of three rondelles with contrasting chunks of January King Savoy cabbage, drizzled with smoked bone marrow, was equally ace, while a side of sweet carrots with tarragon pesto were divine. Paul finished with a walnut ice-cream sandwich with roasted pear, while I loved my iles flottante – poached meringue on lemon custard and rhubarb – a classic French dessert which is back in vogue.
The entry level for wines is €24.50 and with three glasses (€6.50 each) of an aromatic and peachy Domaine de Bertier Sauvignon Blanc-Viognier 2014 and a large bottle of still water (€4.50), our bill with optional service came to €106.
Beat a path…quick!
Bastible,

111 South Circular Road,
Dublin 8
Tel: (01) 473-7409
bastible.ie
lucindaosullivan.com