Our Latest Great Place To Eat - Kenz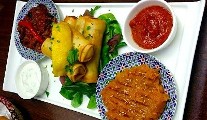 Thursday 31 December 2015
"My wife, Sana, has always cooked for friends and family and they are always asking for her food." My friend Rena and I, having just enjoyed delicious freshly cooked authentic Moroccan food, couldn't believe our luck that we now have this little gem on our doorstep, for there aren't that many Moroccan restaurants in Ireland never mind in South County Dublin. I love the way Moroccan cuisine involves the use of fruits, both fresh and dried, as well as olives and nuts, with meat adding that natural sweet sour element to their dishes.
Its bright saffron coloured exterior shines out like a welcoming beacon along the street, while inside, which seats around twenty people, they have created a colourful contemporary Moroccan feel that had me wanting to pinch their wallpaper and amazing colourful stained glass style light fittings reflecting patterns and shadows on the ceiling, not to mention their colourful tagines and tableware.
Starters included couscous salad with peppers, mushrooms, cherry tomato and onions served with Feta cheese and yoghurt sauce, as well as Kebda, lamb's liver in tomato sauce with olives and preserved lemon. We decided to share a platter which gave us a good overview of the starters in general including butternut squash salad, which was a sweet puree of the said squash, mixed with ginger and cinnamon while, at the other end of the rectangular plate was Zaalook, an aubergine pate with tomato and Moroccan vinegar. We mopped these up with gusto on the divine bread which accompanied the dish, as we also crunched through a selection of filo pastry 'cigars' filled alternatively with chicken, mincemeat and prawns with vermicelli, which had tomato and yogurt dipping sauces.
Mains included a wide range of tagines, couscous dishes and kebabs. Frankly, we wanted to try all of the tagines and I can see myself working my way through the menu over the next couple of months.