Restaurant Review - 12 Years of Rasam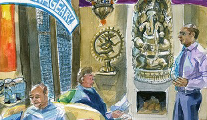 Friday 27 November 2015
From rock stars to politicians, TV hosts to radio broadcasters, techie millionaires to major-league sports stars, they are all to be found, on a regular basis, dining cheek-by-jowl in Rasam Indian restaurant on the Glasthule Road in Co Dublin.
Nisheeth Tak is the man who pioneered contemporary Indian food in Ireland, eventually opening Rasam, which is now celebrating its 12th anniversary with a new menu. I'm a huge fan of Indian food, and I don't need any excuse to tuck in on a regular basis, but we are only coming to understand that Indian spices also have health benefits.
The new menu is a reflection of all that these delicious spices can add to our lives. Fenugreek is not something we might normally know or pick up in the supermarket ourselves, but it is wonderfully distinctive and also soothes digestion, slows sugar release and helps to balance cholesterol. Rose petals de-stress the mind and support the heart, while coriander supports the liver, and also soothes digestion. Turmeric is an antioxidant, anti-inflammatory and antiseptic (I toss it in the pan with olive oil when I'm frying eggs), while ginger apparently facilitates nutrient absorption and pain relief in the joints. What's not to like?
Starters (€6.95–€15.95) included aloo tikki — pan-fried potato cakes with peas, fenugreek leaves, tamarind sauce, yoghurt and fresh mint; while a new Indian street-food dish of pork chatpata has pork strips that are marinated with red chilli, dried mango and malt vinegar, and tossed with bell peppers and onions.
I had duck rolls (€10.95), which is a Keralan dish, involving star-anise-flavoured Muscovy duck, figs and tamarind, wrapped tightly, cigarillo style, in filo pastry. I loved the sweet fig blending in each bite with the rich duck, and yet it is a perfectly light starter. Rena had fabulous nimbu jhinga; pan-seared, spatchcocked jumbo prawns (€15.95) in the shell, with fresh turmeric, Kashmiri round chillies, ginger, fenugreek leaves, lemon leaves and garlic. Main courses (€17-€21.95) included chicken breast simmered in fresh beetroot and tomato sauce; as well as dum pukht gosht from Lucknow — lean leg of lamb, slow cooked with garlic, ginger, coriander seeds, tomatoes, red chillies and garam masala. Two of the most popular dishes are Keralan tiger prawns in mango sauce; and barrah nalli, a lamb-shank recipe from the north-west of India.
If you want a selection of dishes, you could have the mansahari thali at €29.50, splendidly presented on a silver platter, and including lamb, chicken, prawns, potatoes, pulao rice, naan bread and a sweet and sour pickle.
There's also a great range of vegetarian dishes (€12.95-€13.95), something in which Indian cuisine really excels. We tried two fabulous dishes — a rustic, home-style chicken curry from north India (€17.95), and a fish curry (€21.95) from Mumbai. With these, we had a portion of pulao rice (€3.50) and the currently cool cauliflower, in the form of methi gobh (€4.95), which consisted of crisp cauliflower florets and fenugreek leaves, with ginger, cumin, green chillies and fresh tomatoes.
Indian desserts are delicious too. Rena tried saffron kheer, a traditional light, creamy rice pudding (€6.50), while my malai kulfi (€6.95), home-made Indian ice-cream, was tantalising, with its sparkling-silver basil seeds.
With a bottled water (€3.95) and a delicious crisp Galician Godello Terras do Cigarron Monterrei 2013 (€29.50), our bill with service came to €134. You can also buy spices at Rasam, or order food to go.
So, here's to another 12 years of Rasam — a jewel in the crown of Irish restaurants.
Rasam
18-19 Glasthule Road,
Glenageary,
Co Dublin.
Tel: (01) 230-0600
rasam.ie
lucindaosullivan.com
Sunday Independent